Wondering who are the real humans behind Mr. Simon? OK, let's do some unveiling here:
Who We Are
Mr. Simon is a software platform developed by Teammate.Exec - an IT Consultancy providing software development services to enterprises.
Our team consists of two co-founders - Natalie Lihacova (CEO and Product) and Andrew Grishin (CTO and Engineering), the Engineering & Design team, and the Content team.
Our Story
Mr. Simon was officially born on June 1, 2019, when our team met for a summit event in Kiev, Ukraine. Well, some people call these types of events "teambuilding", to be precise. And some even call them simply "having a good time with a beer or two". Whatever you call it, this was when we decided to start working on Mr. Simon together, and defined the MVP and tentative release date, about 3 months following the summit.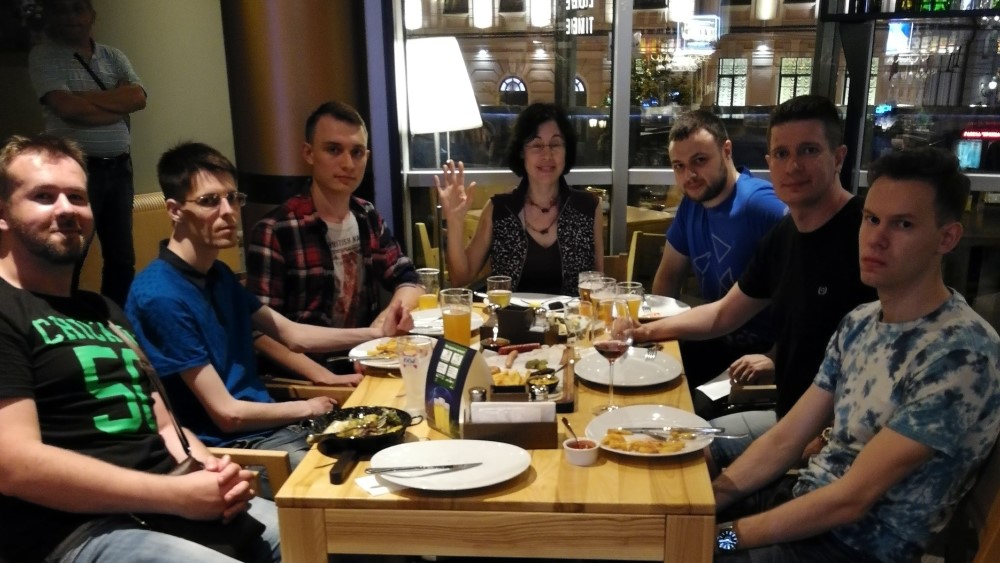 The inception, as many of you may guess, happened a while before the actual birth date. It was when Natalie relocated to live to the U.S.A. back in 2015, and soon after that found herself meeting many new people and oftentimes being asked the same question: "Tell me about yourself!"
"What exactly should I be telling these people? How can I translate my whole life full of incredible experiences in all their variety, into a brief and concise message?", Natalie started wondering. "Which part of my life story matters in this particular context?"
Through a lot of reading and research, and through a series of experiments, Natalie came to the revelation that there are MANY other people with the same problem! Because, honestly, even someone who has never traveled outside their own hometown or made a huge scientific discovery, will assure you that their life is full of stories to tell, and so, which of them are they supposed to pick to describe themselves in a nutshell?..
Fast forward to today: after launching the first, bare-bones version of Mr. Simon in the fall of 2019, followed by a major update in 2020 adding Guidance feature to the product and to Company pages, we have been working in two streams:
profound user research to identify the features that will bring substantial value to everyone looking for a job and, in particular, to those preparing for an upcoming job interview;
exploration of technical feasibility: what is the state of the art of Natural Language Processing (NLP) technology? Which useful features can we develop with it, and where should we rather utilize classical, rule-based programming?
prototyping new features and gauging their real and perceived value in the process of preparing for a job interview.
Our Team
Many of you know the main driving force behind Mr. Simon, the "Mr. Simon Lady" - Natalie Lihacova. Natalie has always been passionate about helping people become better professionals, as manifested in her management style of Mr. Simon and of Teammate.Exec, their another business together with Andrew Grishin. Without her intention, people often call Natalie their "career mentor".
Natalie strongly believes that we all are gifted with certain talents. Discovering and applying these talents to help people is our calling in life, whether we are aware of it or not. As a manager and a career mentor, Natalie helps people identify these talents, and as "Mr. Simon Lady", helps to present and communicate them effectively.
Andrew Grishin is the technical co-founder of Mr. Simon. Those of our clients who have had a chance to work with Andrew, often call him "exceptional, high-caliber talent". Andrew's extraordinary ability to achieve high-quality results in the shortest time possible, his practical, results-oriented mentality, his ability to both see the high-level picture and to immediately get to the very root of a problem, make him a top-notch software engineer and architect most companies dream of (see how lucky Mr. Simon is! ;) ).
Good communication skills are a sweet addition to his collection of soft skills, which makes him a great team lead and a strong technical communication hub for cross-team and cross-vendor relationships.
Both Natalie and Andrew reside in Pittsburgh, U.S.A. - a city of tough, hardworking visionaries.
Our engineering team is not big, but every team member is extremely valuable and is here for the long haul. Nowadays it does not matter much who is located where, but just to give an impression of who we are - part of our engineering team is mostly located in Latvia, Europe, and another part is in Ukraine. Quick, agile, friendly, and no-nonsense - these are our guys.
Mr. Simon Community
We are always open to collaboration ideas that can bring value and benefit to Mr. Simon and his customers. We maintain strong contacts and relationships with other startups, universities, job search networking groups and their leaders, with recruiters and business managers.
Most importantly - we stay in close touch with our customers who we call Friends of Mr. Simon!
Join our meetup group Friends of Mr. Simon to receive notifications about our upcoming events. In our meetups, we discuss effective approaches to Job Search and Career Advancement in the form of interactive workshops.