We analyzed 262 interview reviews for Caribou Coffee from various job sites, social network groups and forums.
Here are the most frequent job interview questions asked by HR managers during initial phone or onsite interviews. This list does not include technical or factual questions.
16 frequent non-technical questions at Caribou Coffee:
According to our research, hiring managers at Caribou Coffee ask soft skills interview questions 2.8x more than at other companies.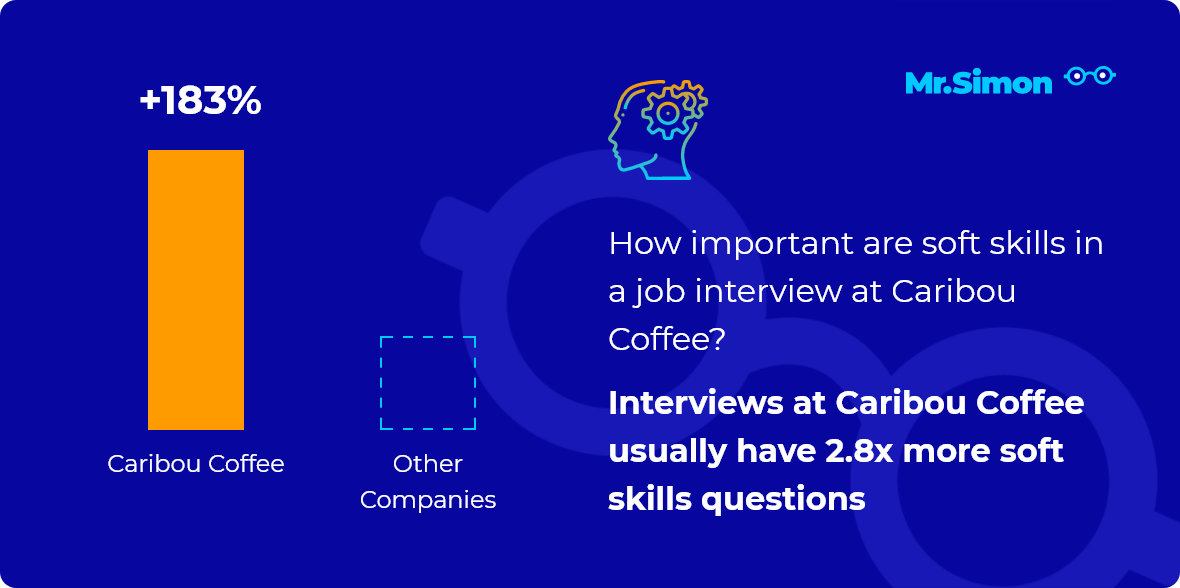 1. If you could be any animal, what would you be and why?
top question
How to answer
Some hiring managers really like these oddball interview questions.
Why would the interviewer want to know what kind of animal you would want to be? They think it's going to reveal more about your character and can show them how you respond when you're under stress or when you are thrown a curveball.
Questions like these do reveal your thought process and offer you a chance to show off your creativity and inventiveness.
To answer this question, realize that in fact you are asked 'What kind of an employee will you be?' Analogies often tell the truth!
About Yourself

The answer to the question about animals at the interview is to check how well a person knows himself.

Do you understand your strengths and weaknesses?

Are you able to objectively look at yourself and see what you actually are?

The answer must be true and based on reality.

Before the interview, analyze your internal self and try to figure out all the possible qualities that you possess. If you focus well, you should be able to come up with at least 10 qualities.

When you are in the interview you can name the animal, and give several of the qualities that you see in that animal that also describe you.

The question is also a test of your sense of humor. You probably don't want to choose a giraffe, kangaroo or rhinoceros as these animals might be hard to match to your personal qualities. Also, you really want to stay away from animals like snakes, hyenas, rats or spiders. These animals have negative, off-putting associations.

About The Company

This question during the interview is a creative way of asking you about the kinds of qualities and skills you possess and how you perceive yourself to fit in the company with those qualities and skills.

About The Fit

The objective is to understand the depth of your viewpoint and analytical thinking.

Once you list down the qualities, figure out the ones that will be helpful in the job that you have applied for. The more relatable the qualities, the better you will be able to sell yourself to the recruiter.

For example, if you compare yourself to an elephant, which is a strong, intelligent, loyal to the group and unstoppable animal, you will explain your ability to adapt to any new environment and work according to the culture and system of the new place.

Dolphins are very good communicators, loyal to the group and adaptable to many conditions and can be used as an example to indicate how good you are when it comes to handling team tasks.

Dogs are seen as Man's Best Friend, that's why it might be a good example for someone in a support role. Besides, they have such important qualities as loyalty and devotion which are highly valued in most companies.

If you compare yourself to an eagle, you will highlight the ability to see the whole picture, sharpness and tenacity of vision. These are good qualities for managers or directors.

Comparing yourself to a lion you are pointing out that you are a skillful leader and a good team worker.
Pro Tip
Always choose the animal that makes a strong impression and fits perfectly with the skills and qualities that you see as needed by the company.
Your example should be based on reality. The way you answer will help the interviewer to understand your thinking skills and managing ability in situations when under pressure.
Statistics
This question is asked 81.8x more frequently at Caribou Coffee than at other companies.
2. If you could be a superhero, what would your superpower be? Why?
How to answer
The superpower question focuses on the quality potential employees identify as their biggest personal asset.
Also, it's intended to encourage a response that isn't typical.
This type of question is asked to see how well you think on your feet and if you can be creative.
These kinds of questions are also used to see if a candidate has a good sense of humor, a very desirable trait when you have to work side by side with others.
Finally, it invites you to focus on the impact you could have on the organization.
Answering this question, remember that you actually have to answer, "What's your biggest strength?"
About Yourself

Can you come up with an articulate answer when faced with an unexpected question? If you can, regardless of the superpower you choose, you'll make a good impression.

The superpower question invites you to talk about your Key Selling Points.

Are there any achievements you're particularly proud of, or times when you had to overcome obstacles to succeed?
Can you identify a particular characteristic that enabled you to do this?
What made it possible for you to achieve great results?

About The Company

Make sure to research the company and read the job description thoroughly to identify the key strengths required for the role.

About The Fit

You should use this opportunity to showcase your personality and make yourself stand out from other candidates.

Outline why your chosen superpower would be an advantage to the employer.

You need to illustrate your power with an example drawn from your real-life experience.

Choose a simple but strong and effective superpower, for example:

Sensitivity to what other people are thinking and feeling, that will show your emotional intelligence.
Observation is attention to detail and the ability to step back and analyze a situation.
Efficiency is as valuable to an employer as the power of flight is to a superhero.
Time management is an important skill, as is the capacity to spot ways to improve processes and accomplish tasks more swiftly.
Agility is being flexible and adaptable in a dynamic business environment.
Pro Tip
While this question is an invitation to talk about your strengths, you need to avoid sounding boastful.
Just remember not to take this question too literally: avoid saying you like to set things on fire or blow things up, unless, of course, this is relevant to the job you are applying for.
You need to demonstrate that you can think logically, be spontaneous and come up with a desirable answer, and fast.
Statistics
This question is asked 28.7x more frequently at Caribou Coffee than at other companies.
3. How would you handle a customer with difficult behavior?
How to answer
People skills are highly valued in every company, and even so much more so in a company that deals with difficult customers occasionally. It is important to show how you can manage difficult personalities.
About Yourself

Look back on your experience. Have you worked with a difficult or disruptive person? Remember how you diffused the situation and how you turned things around.

Do you have certain principles, or methodology, to deal with difficult people?
Do you have strong people skills, are you good at conflict resolution?
Are you high on emotional intelligence? Can you give an example?

About The Company

What have you found about the company and its culture?
What have you learned about how the employees value each other?
How do they treat their customers?

Knowing their line of business or industry, what can be some examples of difficult customers?

About The Fit

A question like this asked in an interview, may be an indication that difficult customers, or other difficult stakeholders, may indeed be something that you will probably encounter in this company, and it is important for the interviewer to know that you will be able to handle this challenge with good grace.

If you can give an example of how you handled a difficult person in the past in a situation similar to what this company may require from you, this will strongly increase your chances of showing yourself as a good fit.
Pro Tip
One methodology for diffusing a difficult situation is called "the triple A" approach:
Acknowledge - what the other person is feeling,
Apologize - for the way the other person is feeling,

Admit - that there was an issue that you are working on to get it resolved.
If it is a customer, it would add that extra touch if you added another "A" to your approach by Asking for the customer's contact information so you can update them of any progress on their issue.
Statistics
This question is asked 3% more frequently at Caribou Coffee than at other companies.
Take a quiz
Take a quick quiz and check if you're ready to answer this question at your next job interview:
Pick the best answer:
AIf the customer is rude and obnoxious, answer in kind and show him that he cannot push you around.
BListen carefully to what the customer is saying to really understand their concerns then repeat back to them what you heard to be sure you have it right, before attempting to help them with the problem.
CTell the customer that he should have known that the sale is final and there is nothing he can do to renegotiate the terms of the deal.
4. What is your greatest weakness?
How to answer
This question ranks as the most challenging for many people. Fortunately, Mr. Simon is here to help!
Interviewers ask this question to gauge your level of self-awareness, your honesty and openness, and your capability for self-improvement.
About Yourself

No one is perfect and your interviewer doesn't expect you to be perfect either.

While it is good to be honest and open, it will not help you to put yourself down.

What's important is to find a weakness that you have overcome or something that is not related to the position for which you are applying.

For example, one of our clients admitted that he is not very good at public speaking and that he has recently become a member of Toastmasters International to improve. What a respectful answer and approach, in my view!

About The Company

Research the company (website, social media, etc) to learn about the company culture.

What personal and professional qualities do they value?

About The Fit

It is important that the weakness you decide to talk about is not one that will prevent you from performing the job for which you're applying.

For example, if you're applying for a front-end developer position, do not talk about how you are struggling to understand HTML code.
Pro Tip
Use this question to sell yourself!
It's important to show how well you've overcome a weakness by motivating yourself and learning a new skill to grow professionally.
Statistics
This question is asked 34% less frequently at Caribou Coffee than at other companies.
Take a quiz
Take a quick quiz and check if you're ready to answer this question at your next job interview:
Which of the following would be the best answer:
ASometimes I just work too hard
BI have trouble saying "no" when a colleague asks for help and I have my own work to finish
CI am a perfectionist
DI cannot think of a single thing
5. Tell me about a difficult work situation and how you overcame it
How to answer
Everyone faces some awkward, difficult, and possibly even dangerous situations on the job once in a while.
The interviewers aren't asking you this question to remind you about any stress you have experienced in the past or so that you can complain about your old job. They are asking you this question to see how you handled the situation.
It says a lot about you as an employee and as a person. They want to know how you will deal with an unprepared situation that might arise during your work tenure.
About Yourself

Try to think of a time when outside forces created a stressful situation.

What was the context?
What was the challenge?
Did you step in?
Were you able to create a solution that could make everyone happy?
What did you learn from that situation?

How would you handle this situation should it happen again in the future?

Avoid examples that make you seem indecisive or uncertain, and keep your answer positive.

This is your chance to show that you have problem-solving skills. Showcase these skills using the STAR method, which will help you effectively organize your response when answering this type of question.

About The Company

Do your research about the company. What challenges and kinds of situations may you face in your new role?

Read carefully the job description and the list of responsibilities required.

About The Fit

Do your best to ensure your interviewer that you are a person who can identify, isolate, and solve problems.

Ultimately, it doesn't matter how big of a difficulty you had with any particular project. What really matters is the process of how you overcame that difficulty and whether you are capable of handling difficult situations in the future.

Choose your example wisely: if you're looking at a team leader or manager role, it might be better to talk about a people issue rather than technical.

If you're looking at a developer or architect role, then highlight something more technical.

Name your soft skills as well, such as project management, dealing with difficult people, pushing back requirements that were inadequate, etc. Talk only about your fits which are relevant to the job you want to get.
Pro Tip
Any company would prefer to hire a mature person, capable of rising above complex situations.
Therefore, make it a point to describe a situation in which you utilized your strong personal and professional skills. Emphasize how the situation helped you grow in different aspects of life.
Statistics
This question is asked 3.7x more frequently at Caribou Coffee than at other companies.
6. How do you decide what gets top priority when scheduling your time?
How to answer
Time management is crucial to perform well at any job. That's why you may be asked this question during the interview.
Your response to this question will show your interviewer how effectively you determine which tasks need more immediate attention than others.
It will allow them to see if you can prioritize tasks without sacrificing any other responsibilities that you needed to complete.
About Yourself

The idea of answering this question is to set realistic expectations for yourself and your potential employer. Ask yourself the following:

How organized are you?
Are you able to cope with different tasks, deadlines without getting yourself in a muddle?
Do you understand the difference between the urgent and the important?
Can you reach a balance between company priorities, efficiency, your work-life balance and personal needs?

About The Company

Research the company, its culture and the job description.

What do you expect to be doing in this job?
How would your performance be measured?
What will your responsibilities be?
Will you decide by yourself what tasks should be done first?
Are there any tasks in the job description that emphasize priority?

About The Fit

Everyone has a different method of managing their workload so it's your chance to shine and show your excellent time-management skills explaining your preferred technique to your interviewer.

The best way to prioritize your tasks is to list out what you need to work on across all of your projects.

Explain that the first thing you usually do is break down bigger tasks into subtasks to feel less overwhelmed. When all of your tasks are in one place, you are able to have an overall view of what needs to get done, develop a sense of how much work you're dealing with, and what tasks need immediate attention.

Also mention how professionally you handle a situation when unexpected changes occur. This helps to show you're mindful of high-level company priorities.

It's best to give real-life examples to show the interviewer you're not just talking about a generic strategy, but you've successfully practiced this in the workplace more than once.
Pro Tip
When you clearly prioritize your work, you can increase productivity, better manage your time, and feel confident that you'll hit your deadlines—every time.
Choose one of the most effective and proven time management techniques that will help you to show the interviewer how you work.
The Eat the Frog method says: "Do the most important projects first thing in the morning, and when you're done, switch to those less pertinent."
The Eisenhower Decision Matrix method helps you divide your tasks into four quadrants. 1st -important and urgent, 2nd - important but not urgent,3rd - not important but urgent, and 4th - not important and not urgent.
With the ABCDE method, you assign each task you have a letter value according to its level of importance, and then tackle them accordingly, where A - very important, E - eliminate whenever possible.
With the help of the Chunking method, you can have a focused work activity, dividing big pieces of work into small ones and vice versa, depending on your goal at the moment.
Statistics
This question is asked 10.5x more frequently at Caribou Coffee than at other companies.
7. What is the biggest lesson you've learned from a mistake you made?
How to answer
It's important to know how to answer a job interview question about mistakes.
They ask questions like this to learn how you handle challenges.
They also want to determine your weaknesses, and decide if you have what it takes to do the job well.
It's a chance for the interviewer to see that you can learn from your mistakes and use the experience to get better.
About Yourself

Do your best to tell a positive story about how the mistake was made, how you dealt with it and what learned from it.

We all make mistakes from time-to-time. Answering some of the following questions will help you understand your own view of dealing with mistakes and their consequences.

For instance:

How do you use a mistake to improve your abilities?
Are you self-aware enough to acknowledge failure and weakness?
Do you take smart risks?
How do you view success, failure, and risk in general?
Do you take responsibility for past mistakes instead of putting the blame on others?
If the situation repeats, what would you do differently? What would you do again?

About The Company

Before the interview, look over the job listing, research the company.

Try to think of a mistake you have made in the past that is not too closely related to the requirements of the job you are interviewing for. What kind of challenges might you face if you get the job here?

About The Fit

It's your opportunity to emphasize the skills or qualities you gained from your past negative experience that are important for the job you're interviewing for now.

Put a positive spin on your response by defining the "mistake" as a "learning experience" that led to your increased competency in the workplace.

Talk about a specific example of a time you made a mistake. Briefly explain what the mistake was; quickly switch over to what you learned, or how you improved, after making that mistake.

You might also explain the steps you took to make sure that mistake never happened again. Say that something you may have struggled with in the past has actually now become one of your strengths.

Pick a story that ends with a compelling example of a lesson learned. Tell your story using the STAR method.
Pro Tip
Make absolutely sure that the interviewer understands that you learned from the experience.
Never blame others for what you did (however, if you were part of a team failure, you could relate this experience, just be sure to own up to your part in it).
Always be accountable for what you could have done differently in the failure. Demonstrate that you've had the maturity to benefit from previous "lessons learned" and you can move on with increased wisdom and competency.
Statistics
This question is asked 3.2x more frequently at Caribou Coffee than at other companies.
8. Tell me about yourself
How to answer
This question may sound vague, but it actually requires a matter of fact, concise and relevant answer. Here's how you can approach it.
About Yourself

What is your current occupation? Define yourself professionally in one statement.

Pick 3 key skills that make you great at your work (your Key Selling Points). How have you applied these skills?

Try to give some numbers to support your statement.

About The Company

Based on what you know about the company and the job description, why are you interested in the position you are applying for?

About The Fit

Based on your Key Selling Points and your knowledge about the company, why do you think you are a good fit for this position?

Can you support your statement with relevant examples from your past experiences?

Try to be concise and stay within 1-2 minutes.
Pro Tip
You can also end with a question like:
"Do you know what the current needs in the company/department are, where my skills and experience can help?"
That can help you learn more about the company and the job, turn the "interrogation" into a conversation and will allow you to relax some tension.
Read our blog post to learn more about how to answer this question.
Statistics
This question is asked 83% less frequently at Caribou Coffee than at other companies.
Take a quiz
Take a quick quiz and check if you're ready to answer this question at your next job interview:
Pick the best answer:
AMy name is Andrew Franklin, I am 28 years old, and I am looking for a job that pays well.
BHello, my name is Natalie Price. I have two children and I love playing billiards and travelling. I am 33 years old.
CHi Mr. Simon, my name is Stanley Clark and I am a certified Project Management professional known for completing projects on time and on budget. I am passionate about building agile work culture and delivering results.
DHi Mr. Simon, my name is Dorothy Hanson. I have previously worked as an accountant in retail, but currently I am trying to transition into the field of healthcare.
9. Tell me about your work experience. What was the most interesting?
How to answer
This question lets an interviewer gauge what makes you tick and whether the job you are applying for corresponds with your areas of excitement and enthusiasm. Such a fit will earn you important points for being a viable candidate.
About Yourself

Review the details that you shared in your resume. Select the three to five best points to highlight and relate to the position to which you're applying.

About The Company

Carefully research the company and the job description.

Find out what duties you'll be taking on to determine which of your top skills to emphasize. Try to find out what current challenges they are trying to solve by opening this vacancy.

About The Fit

Knowing the duties for which you will be responsible will help you identify which prior experiences to highlight.

How well you connect your previous experiences with the job requirements can tell the interviewer how prepared you are for this role and how enthusiastic you will be about your job.
Pro Tip
Do not start your answer with "as you can see from my resume," even if you have listed those skills and qualities.
Instead, tell a story showing that you can solve problems similar to their current challenges and that you are enthusiastic about this.
You can best do this through constant practice of your STARs.
Statistics
This question is asked 43% more frequently at Caribou Coffee than at other companies.
10. Tell me about a time you had a poorly performing team member
How to answer
Underperforming employees can appear at any job.
Each person performs his/her tasks on schedule, and the entire team works together to get the project done, but there may be times when one team member is exhibiting low or poor performance and generally displays a lack of motivation. It can affect the entire team.
This question addresses your collegiality and your ability to work on a team. The interviewer would like to know if you can successfully motivate others without it coming across as condescending.
About Yourself

Ask yourself the following questions based on your own experiences.

Do you like working on a team?
How well do you work in groups, and what role do you tend to take on in a team project (for example, leader, mediator or follower)?
Are you easy to get along with?
What can you do to support other team members?
How do you act to help to minimize the damage of poor performance to the project?

About The Company

Research the company ahead of time so that you can present yourself as someone who would fit seamlessly into their team culture.

The example you use to respond to the question should be relatable to the company you are applying to.

About The Fit

You need to demonstrate to the interviewer that you are both enthusiastic about teamwork and that you get along with colleagues.

Be ready to provide a viable solution to this common work situation. Use a scenario when your encouragement was well received and resulted in a positive change or outcome. Emphasize that you always try to create a friendly environment with your team members.

Here is a simple and honest example:

"As a server at "ABC," I was working with a difficult coworker who refused to contribute to the preparation for a holiday party. She decided to sit and watch while we worked. I took this opportunity to speak with her in a calm and friendly manner and asked her to do the small odds and ends. She agreed and worked on the place cards and seating cart, which played an important role in the fluidity of the event. Sometimes, people have hidden strengths and weaknesses, you just need to identify them!"

Indicate how you'll handle future challenges if they happen.
Pro Tip
Teamwork is important, but when you have one member who isn't positively contributing to the team, the tone of the team can shift.
Keep your answer upbeat and avoid complaining about previous managers or team members, speak about your actions and approaches rather than theirs.
Statistics
This question is asked 5.6x more frequently at Caribou Coffee than at other companies.
11. Tell me about a stressful situation and how you dealt with it
How to answer
Nowadays, professional life is stressful everywhere and always. However, there are levels of stress that are so common that we consider them normal, and there are times when they really skyrocket.
Your future employer wants to know how you will behave in such times, whether you will be a helping hand or a burden.
About Yourself

Remember a time when you had to hit a tight timeline and to work long hours, hard and overtime; or when you found yourself in the middle of a conflict with someone, or with a group of people.

If you had more than one such occasion, choose one that ended positively and successfully, and ideally, that can demonstrate some of your key skills - your Key Selling Points.

Most likely, the situation was highly emotional.

What helped you persevere?

Was there an element that you enjoyed?

For example, in one of our projects, my team and I had to hit a really tough timeline for a customer, which seemed almost impossible in the beginning.

However, we knew that we owned the results and that a major decision by the customer depended on the outcome. This sense of ownership, meaning, and impact gave us energy and excitement.

Those were the challenges that we loved and could deal with for a sustained period of time. Also, the pleasure of working with a highly qualified top manager on the customer's side added to the enjoyment.

Now, after a few years, we remember those times as some of the most exciting for our team.

About The Company

What do you know about the company, where you may encounter a stressful situation?
Are they working on a major project which is approaching a due date?

Are they going through a difficult time when cost-saving is a top priority, company culture is full of negativity and mistrust, they have gone through massive layoffs, customers are neglected, and everyone wears a long face?

These are always stressful times, and you should try to know more about expectations in the company, and how realistic they are.

Or, are they just a dynamic, highly agile company run by smart and creative folks, which may work excellently for some people and be confusing and mind-blowing for others?

About The Fit

Think of your ideal workplace environment.

Does this company feel like it?

Do you feel excited and enthusiastic about the kinds of stress you may encounter here?

If you feel compatible with this company culture and enthusiastic about the challenges you expect here, this is a good chance to mention it and to show your excitement.

Explain your approach or rationale and give your example from the past.
Pro Tip
If you cannot remember any stressful situation with a positive outcome, you can use one with a negative outcome accompanied by your lessons learned.
However, this option should not be your first choice, as the failure to give an example of a successful outcome may portray you as an emotionally immature person.
Statistics
This question is asked 11% less frequently at Caribou Coffee than at other companies.
12. How would you describe yourself?
How to answer
This question is like the Tell me about yourself question usually asked at the beginning of an interview, but there are some subtle differences. It belongs to the family of reflective questions where the interviewer is assessing your cognitive abilities, as opposed to the more factual and matter-of-fact "Tell Me About Yourself" question.
About Yourself

Think of how your bosses and peers would describe you.

Throughout your professional experience, you have probably heard them giving you some labels – try to remember the exact words they used.

If you have received LinkedIn recommendations from someone, read those and think why people wrote them and what work situations prompted those descriptions. Remember the context of those situations and frame them as stories.

Make a list of keywords, or short key phrases, that can describe you. Your Key Selling Points should definitely appear on this list, but try to also use some adjectives here, to add a positive emotional touch.

About The Company

Research the company's values, standards and policies. Make a list of keywords or short key phrases.

About The Fit

Which of your keywords correspond best with those of the company? Highlight 3-4 matches. Now try to imagine being a peer or a boss of yours and compile statements about yourself, in the 3rd person, mentioning these keywords. Remember to use adjectives, and don't be afraid to mention real references from real people.

For example, if you are applying for a position that requires good people skills, and your boss at your previous job called you a "conflict resolution guru," don't be shy to mention this reference, and provide a brief context that caused your boss's praise. Use the STAR method to craft your story.

Don't limit yourself with just one keyword. If you are concise and don't ramble with your answer, your interviewer will probably want to hear more than one. Just be observant and watch the interviewer's reaction. You want to keep them interested.
Pro Tip
If you haven't yet received any LinkedIn recommendations, try to obtain them. Also, offer to write your own recommendations for them - both received and given recommendations will be visible in your profile and will tell the interviewer exactly what you want to be known about your values, your attitude towards work and relationships.
Statistics
This question is asked 6% more frequently at Caribou Coffee than at other companies.
13. Describe a time you went above and beyond for a customer
How to answer
This question lets the interviewer know how well you think on your feet and how great your customer service skills are.
About Yourself

Think about the time you were a customer, how were you treated and how could your experience have been made the best?

Now think about the time you had to help a customer. What did you do to make that experience unforgettable for him?

About The Company

Think carefully about the company and what they are looking for. Read online reviews and any other available information.

What are their standards for treating customers?
What complaints have you seen that can give you a hint of some of the challenges associated with customer service?

About The Fit

Think of the company's ideals and connect those with your skills and qualifications. Now think of how these requirements are met by how you went above and beyond for a customer.

Frame your story in terms of your STAR method:

S - What was the Situation?
T - What was your Task?
A - What Action did you take?
R - Talk about the Results.
Pro Tip
Showing you have compassion and empathy for customers is always an excellent way to answer the question. However, always remember to frame your answers in terms of how the company addresses these issues.
Statistics
This question is asked 2% more frequently at Caribou Coffee than at other companies.
14. Why did you leave your last job?
How to answer
This question may be a little touchy for some people, but it's a question asked by interviewers, to find out why you left, in order to better understand how you may or may not make a good fit with their company.
Remember, never speak ill of your old company (this will not go over well).
About Yourself

Most likely, there are three possible reasons you left or are leaving your last job:

You are looking for a career change
You are unhappy with your current employment

You were let go.

Whatever the reason, it's best to always speak in a positive light.

About The Company

Based on your research about the company and the position, what do you like most about the company?

About The Fit

If you are looking for career advancement or a career change, you can be very upfront and honest. Be as enthusiastic as you can about the position.

If you were unhappy with your previous job, focus on the positives. Talk about the ways that you will best fit in with the company, in the role for which you're applying.

If you were let go, focus on the positive. Share your accomplishments at your previous employment.
Pro Tip
Whatever the reason you are looking for a new opportunity, always turn things around to show how you are the perfect fit for the job for which you are interviewing!
Statistics
This question is asked 65% less frequently at Caribou Coffee than at other companies.
15. Why and how did you choose your career?
How to answer
By asking this question, the interviewer tries to understand what led you to choose your career path and hopefully to find out how enthusiastic you are about the work you do and how well you will fit into the job that you are applying for.
The answer will show whether your desire to work "here" and if it is a determined part of your overall career plan or it is just a stop along the way to other things.
About Yourself

What characteristics and skills do you have?
What makes you good at what you do?
What attracted you to your career path?
What strengths do you possess that make you the best candidate for the job?

About The Company

Do your research and learn as much as possible about the organization and the career path you might forge there.

Match up any of your skills and experiences that relate to the requirements of the job. How can you apply them to your new position, as well as the future?

About The Fit

Don't just explain how you originally found this career.

Show you're still glad to be doing it, that will put the hiring manager's mind at ease that you're motivated to do the work, and that you'll be a big success if they hire you.

Your answers should provide the basis for a discussion about your passion for the work you do, your qualifications, and your skill set.

Make a list of factors that led you to this choice.

At the interview, tell only about those that characterize you and the situation in a positive light.

It may have been a successful internship with a similar function, which confirmed your desire to work in this field.

It could be a successful example of your parents, relatives or friends, which is indicative to you. You might have been motivated by your own academic success in this field which led you to enter it.
Pro Tip
Say that your chosen career best reflects your interests and you see it as continuing to be the most promising one for you.
Here's a simple formula for answering this question:
First, address the origin of your motivation by tying it to your personal history. Then, explain what keeps you energized about the work on a daily basis that led you to where you are today. Finally connect your story and motivation to this job, the one you are interviewing for.
Statistics
This question is asked 3.3x more frequently at Caribou Coffee than at other companies.
16. What's your ideal workplace?
How to answer
This question has everything to do with the topic of culture: the interviewer is trying to understand whether you, as a candidate, are a good cultural fit for the company.
On the other hand, you want to know how closely this potential workplace corresponds with your expectations.
You don't want to find yourself in an extremely challenging and, possibly, hostile environment, right?
About Yourself

To help you better picture what your ideal workplace should look like, ask yourself the following questions:

What do I need to be happy at my workplace?
What would be the physical environment I would most enjoy working in?
What am I passionate about? What motivates me?
What impact does my work have on the world?
Does my work support me enough (including income, vacation, health plan)?
Can I build strong, friendly, and quality relationships with my colleagues?

What opportunities does my work give me personally and professionally?

Name a few key points that describe the working environment which are most important to you. You can come up with your own, or choose the top 3-4 from the list below:

working in a team or independently
stability
caring
learning new things
agility
creative atmosphere or competitive atmosphere
friendly
flat structure
hierarchical structure
modern
conservative
clear directions

initiative is encouraged.

Similarly, list the qualities in the workplace that you find highly frustrating.

These may be either things you find totally unacceptable (e.g. abuse of power by management, harassment etc.) and would walk away from, or things that you consider destructive but you can turn them around (e.g. "I think demotivated employees are bad for the workplace, but as a manager, one of my key skills is to promote engagement and encourage employees").

About The Company

Do your research about the company.

Study available information about the company's culture and its mission.

How does the company value its employees and how do the employees value one another?
What relations do they have with their customers and suppliers?
There may be certain pain points in the company; do you think you can tolerate them, or maybe even help turn them around?

About The Fit

If 3-4 (or even more) key points from your working environment list correspond with the company's culture, there is most likely a good cultural fit.

If you are able to, explain to the interviewer how your skills can help alleviate some cultural pain points that may exist in the company. Give an example.
Pro Tip
Optionally, you can end with a question like
"Do you think such responsibilities will be part of this position?"
That can help you learn more about the company and the job, turn the "interrogation" into a conversation, and will allow you to relax some tension.
Statistics
This question is asked 12.5x more frequently at Caribou Coffee than at other companies.
---
This page has been updated on March 25, 2022.