We analyzed 119 interview reviews for Financial Services from various job sites, social network groups and forums.
Here are the most frequent job interview questions asked by HR managers during initial phone or onsite interviews. This list does not include technical or factual questions.
10 frequent non-technical questions for Financial Services:
According to our research, hiring managers looking to fill Financial Services role ask soft skills interview questions 2.3x more frequently than for other roles.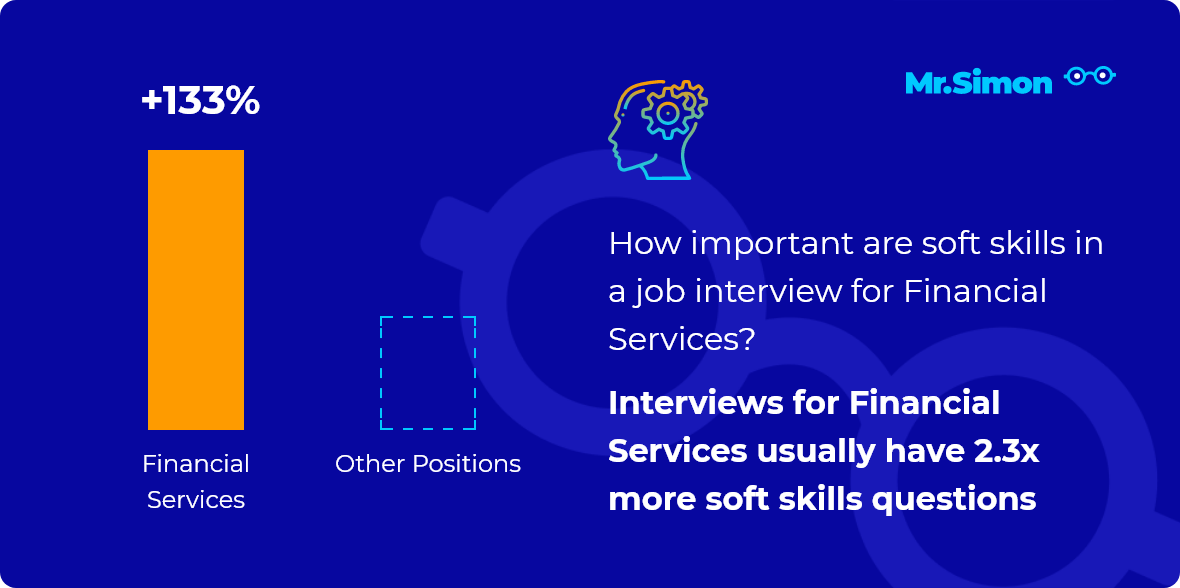 1. Tell me about yourself
top question
How to answer
This question may sound vague, but it actually requires a matter of fact, concise and relevant answer. Here's how you can approach it.
About Yourself

What is your current occupation? Define yourself professionally in one statement.

Pick 3 key skills that make you great at your work (your Key Selling Points). How have you applied these skills?

Try to give some numbers to support your statement.

About The Company

Based on what you know about the company and the job description, why are you interested in the position you are applying for?

About The Fit

Based on your Key Selling Points and your knowledge about the company, why do you think you are a good fit for this position?

Can you support your statement with relevant examples from your past experiences?

Try to be concise and stay within 1-2 minutes.
Pro Tip
You can also end with a question like:
"Do you know what the current needs in the company/department are, where my skills and experience can help?"
That can help you learn more about the company and the job, turn the "interrogation" into a conversation and will allow you to relax some tension.
Read our blog post to learn more about how to answer this question.
Take a quiz
Take a quick quiz and check if you're ready to answer this question at your next job interview:
Pick the best answer:
AMy name is Andrew Franklin, I am 28 years old, and I am looking for a job that pays well.
BHello, my name is Natalie Price. I have two children and I love playing billiards and travelling. I am 33 years old.
CHi Mr. Simon, my name is Stanley Clark and I am a certified Project Management professional known for completing projects on time and on budget. I am passionate about building agile work culture and delivering results.
DHi Mr. Simon, my name is Dorothy Hanson. I have previously worked as an accountant in retail, but currently I am trying to transition into the field of healthcare.
2. What are your long-term goals?
How to answer
Even in this age of the so-called Gig Economy, employers are always looking for people who can become their strong and loyal "soldiers," a part of their "army" to help them conquer their market share against their competitors.
So, even if at this moment this job may be a temporary contract, you never know what opportunities may present themselves to you in this company.
Trust me, your hiring manager doesn't know either!
So, be open to opportunities and use this question to emphasize how your personal goals correspond with those of the company.
About Yourself

Start with honestly assessing yourself. (At this moment, you are not sharing these thoughts with anyone, so be as open as you can).

Imagine that you have all the resources in the world and that all roads are open for you.

How would you use them?
Which road(s) would you choose?

What do you see on the horizon in that direction?

Be audacious and don't limit yourself. There is no longer a perspective than "long-term," so be as futuristic as you possibly can.

List a few "road" options that you would be enthusiastic about going down.

For example, this list may be as broad as the following:

• writer
• choir director
• software engineer and architect
• CEO of a unicorn startup company,
• entrepreneur.

As William Shakespeare once said, "We know what we are, but we know not what we may be."

About The Company

Now, look at the company.

What is the industry they operate in?
What is the position you are applying for, and what are potential career growth possibilities within the department, company, and industry?

About The Fit

Which of your "road" options correspond best with the opportunities presented by this company?

Highlight this option and focus on it. Imagine, in as much detail as you can, going down this road.

What would be the major milestones for you, in order to move towards your goal?

Describe the chosen option by focusing on the first 1-2 milestones, and by presenting it in light of company goals and current initiatives.

For example, if you are applying for a project manager position in a corporation engaged in the education industry, and your "road" option is "CEO," your next career step may be a program manager, or an innovations and research manager.

Explain why you are enthusiastic about reaching these goals, and what makes you think you have the necessary traits and skills to reach them.

How can the company benefit from these traits and skills of yours already today, in the current role you are applying for?
Pro Tip
Framing your answer in the same terms used by the company will help ensure the interviewer can easily understand your language and help both of you to be "on the same page."
The easier you make it for the interviewer, the better are your chances they will "vote" for you over other candidates.
3. Tell me about your greatest professional accomplishment
How to answer
Of all your accomplishments (and I am sure you've had a great many of them!), you should choose the one most relevant to this job position.
About Yourself

Write down your Key Selling Points - your top 3-5 skills that make you a strong professional.

Write down a list of your top 3-5 professional accomplishments that you are most proud of. No need for lengthy descriptions, just 1-2 words for each one to help you recall each situation.

Make sure you have developed the story behind each accomplishment and have a strong command of the details of what happened so that you can tell the story clearly and distinctly.

Along with each accomplishment, mark which of your Key Selling Points they showcase. How exactly?

About The Company

Based on your research of the company, what are their current needs?

What are the major projects going on?
What are the expectations for the position you are applying for?

About The Fit

Try to imagine yourself being an employee of the company you are applying to, say, at your 6th month into the job.

Which of your Key Selling Points and accomplishments would be most relevant to the company?

What "have you accomplished at your new job?"

Choose the most relevant accomplishment from your list and then practice telling your story.
Pro Tip
Most enterprises are now going through major transformations, often called Digital Transformation.
Do your research on what it means and what is often involved, to get a better idea of the current goals and environments in companies. But one thing that definitely characterizes this transformation is striving for agility.
In particular, for startups (if you are applying to a startup or a small business), agility is their middle name, in order for them to survive among bigger sharks in the market.
So, demonstrating qualities like agility and adaptability should generally be helpful and quite a safe choice in most circumstances today.
Take a quiz
Take a quick quiz and check if you're ready to answer this question at your next job interview:
Why do interviewers ask this question?
AThey want to know why you think the accomplishment you chose is your greatest, to give them an idea of what you think is important
BThey want to hear a specific example of your work to see if your problem solving skills fit in with the issues and problems their company might be experiencing
CThey want to know if you are a great multitasker who can get 10 different things done by the end of the day, no matter how long you have to stay at work to complete it all
4. Tell me about a time when you've resolved a problem for a frustrated customer
How to answer
Customers are the lifeblood of any business. How you handle a disgruntled customer can make the difference between closing a sale and failing to do so. It takes good people skills to handle such situations, and this question is a good opportunity to demonstrate your people skills.
About Yourself

Think of a time when, as a customer, you had a problem with a company.

How did you feel?
How did you want to be treated?
How would the situation ideally be resolved?
If it were you on the serving side of the table, what would you do differently? Have you had such experiences in the past where you helped a frustrated customer?

What was the critical factor in a successful resolution of the situation?

Try to define your principles or approach.

For example, I know that people tend to be frustrated when they feel neglected and unimportant.

Whenever possible, I try to meet in person and establish face-to-face contact with someone who feels disgruntled, so that I can fully focus on the situation. (And believe me, checking your phone while speaking with such a customer is definitely NOT a good idea).

Of course, this may not always be possible in your line of business or profession, but I guess you see what I mean - showing full attention greatly improves your chances of mitigating the situation.

About The Company

Every company relies on customers.

Research the company you are applying to and try to find out what their standards of customer relationship or service are, as well as try to find out some real cases where the customers complained about the company, and what the company did to mitigate the situations (a possible source might be Yelp! or another social media platform).

Based on your research, how does the company treat customers? How do they resolve customer issues?

About The Fit

How can you make things better and WOW the customer? Give an example that demonstrates that your approach to resolving customer frustrations is in line with the company policies.
Pro Tip
A disgruntled customer generally just needs someone to listen to them.
The three A's of customer service can help diffuse the difficult situation:
Acknowledge - what the other person is feeling,
Apologize - for the way the other person is feeling,

Admit - that there was an issue that you are working on to get it resolved.
Add the extra "A" - Ask for the customer's contact information so you can update them on any progress on their issue.
Take a quiz
Take a quick quiz and check if you're ready to answer this question at your next job interview:
Customers are often frustrated by what they perceive as poor service especially when they are on the phone. Which one of the following answers do you consider to be good customer service?
APlacing the customer on hold for too long
BPaying close attention to the customer's complaint in an attempt to solve their problem
CAsking the customer to repeat their complaint many times
DFailing to empathize with their problem
EDirecting the customer to your website instead of resolving the issue yourself
5. Describe a time you worked on a team with individuals from different cultural backgrounds
How to answer
Why do interviewers ask this question?
Nowadays many companies rate global and cultural awareness as a key competency for all employees. For most jobs today, it is essential to be able to work well with diverse teams, including individuals who understand international and cultural differences and can interact respectfully with individuals from diverse cultures, political affiliations, races, religions, ages, genders and sexual orientations.
About Yourself

Answering this question highlights your ability to navigate cultural differences at work.

Think about your team experiences and times when you've had to overcome differences with colleagues.

How do you adapt to working with team members of different communication styles?
Are you open-minded enough to consider all their ideas even if you don't agree?
How do you handle the differences in attitudes and values between you and people from other countries or backgrounds?

Do you show respect and are you diplomatic with those people?

Maybe you haven't worked with people from different cultures, but you may have been studying or been friends with people from different backgrounds.

Address your personal life, if necessary, and emphasize your curiosity and openness to other cultures.

About The Company

A careful review of the job description, along with some research of the company will help you anticipate what aspects of global/cultural awareness are most important for a particular role in the company you are applying to.

About The Fit

Demonstrate your openness, inclusiveness, sensitivity, and the ability to interact respectfully with all people and show your understanding of individuals' differences.

Your task is to prove to the interviewer your ability to build strong and caring relationships based on trust and shared goals.

Use the STAR method to tell a story about how your experience helped you to create an open and inclusive workplace environment, so all team members felt empowered to contribute.

Ensure the interviewer that you are very comfortable working with team members from other cultures and possibly with different communication styles. Make it your advantage.

For example, you can say something like: "At my recent work, representatives of different cultures participated in one common project. As a result, our team was able to approach the tasks from different viewpoints to reach a successful conclusion."
Pro Tip
Working in a multicultural team has both advantages and challenges at the same time. In such a team you can broaden your outlook.
Challenges that you have to overcome are: to understand other people's language and culture, to get used to the different ways they think and work; to reduce mistrust that can be a barrier to understanding each other, and to promote awareness of cultural diversity in the workplace.
If you overcome these challenges, you will be the ideal employee at any job.
6. Describe a time you went above and beyond for a customer
How to answer
This question lets the interviewer know how well you think on your feet and how great your customer service skills are.
About Yourself

Think about the time you were a customer, how were you treated and how could your experience have been made the best?

Now think about the time you had to help a customer. What did you do to make that experience unforgettable for him?

About The Company

Think carefully about the company and what they are looking for. Read online reviews and any other available information.

What are their standards for treating customers?
What complaints have you seen that can give you a hint of some of the challenges associated with customer service?

About The Fit

Think of the company's ideals and connect those with your skills and qualifications. Now think of how these requirements are met by how you went above and beyond for a customer.

Frame your story in terms of your STAR method:

S - What was the Situation?
T - What was your Task?
A - What Action did you take?
R - Talk about the Results.
Pro Tip
Showing you have compassion and empathy for customers is always an excellent way to answer the question. However, always remember to frame your answers in terms of how the company addresses these issues.
7. Why did you choose your major?
How to answer
Everyone has his/her reasons to pick a major.
There are hundreds and hundreds of careers to choose from and most people pick a major that will give them a background in the career they want to pursue.
When you come to a job interview you will be definitely asked this question.
The interviewers are seeking to understand your underlying motivations for selecting this career.
It is also a good question for them to learn how much planning and thought actually went into your career selection. It is a window into your personality and interests.
About Yourself

This is your chance to highlight your strengths and how your major prepared you for your future plans.

Your answer to this question should reflect your passion and interest in the field you chose. Be genuine.

There's every reason to display your passions and interest in your major. They will give interviewers a sense of who you really are.

Think about who or what influenced your career choice and include the positive influences, not the negative ones.

How does this tie into your major?

How will you bring your passion and unique knowledge to the new company?

Emphasize your strong people skills and excellent communication skills, allowing you to connect with others.

Think of the skills and experiences you gained through your major, think back to assignments and projects from your studies, internships and previous jobs. Consider the skills you developed working on those projects.

About The Company

Write down a list of skills and experiences you gained through your major studies.

Then, look at the job listing itself.

Match up any of your skills and experiences that relate to the requirements of the job. How can you apply them to your new position, as well as the future?

About The Fit

Use this question as an opportunity to mention a few skills related to your chosen major that would also be relevant in the workplace.

Point to a good culture fit.

Be positive, showing your enthusiasm. Let them know you're excited to be where you are.

Discuss what you enjoy about the industry you're considering and why you could see yourself working in it. Even if your major is not directly related to the job, you can likely find connections between the two.

This is also a chance to explain other ways you have developed skills that will fulfill the role you're applying for.

For example, perhaps you were a biology major who is applying for a job in computer programming. You might explain that you took a number of online and extracurricular classes on programming to develop the skills needed for the job.
Pro Tip
Let your past decisions and accomplishments shine through. Once you nail your interview, you'll be on your way to a successful career path.
8. Who has inspired you in your life, and why?
How to answer
Almost anyone may inspire us at some point in our lives, depending on circumstances and their unique qualities.
By prompting you to answer such a question, the employer wants to judge your character, your value system and your personality. Therefore, you need to do your homework.
The person(s) you choose should be someone that you hold in high regard. It would be helpful (but not a deal-breaker) if the personal values you speak about have relevance to the job you are applying for.
About Yourself

The answer to this question is completely at your discretion.

Who encouraged you to become who you are today?
What qualities do they have that you admire most?
What are the common values between you and your heroes that you can use strategically in your career and life?

How did they help you to do proper introspection that influenced your life?

Maybe it's your parents, someone else from your family, a teacher or a mentor, a researcher, or a writer you admire. Maybe it's a public figure that inspires you. Whoever this inspiring person is, remember that the interviewer is looking for a heartfelt response.

About The Company

Read the job description carefully and research the company to learn as much as you can about the company's culture.

What qualities does the company value in their employees? See if you are able to match their values to those you learned from the person that inspired you.

You should not only list people who inspire you but, if possible, also tell why and how their influence may have relevance to the company you are interviewing with.

Be extra cautious while naming a celebrity, a politician or any other controversial person as your inspirer, because the interviewer might have preconceived notions towards certain people that you might be unaware of and they may turn you away from the interviewer.

About The Fit

Be prepared to give examples of how the words, actions or teachings of your inspirers have helped to motivate you in achieving your goals.

As always, prepare an answer which highlights qualities that would be highly valuable in the position you are seeking.

Most employers look for characteristics such as adaptability, good interpersonal communication, leadership, creativity, innovativeness, honesty and dedication. Ask yourself, what 'specific' attributes have you learned from your motivator? Mention how learning such attributes helped you in your career.

You should provide a specific example that shows the above-mentioned attribute of the inspirer.
Pro Tip
Remember that inspiration comes not only from others, but from yourself too.
Let the interviewer know that you are a self-confident person, who listens to yourself and is inspired by the challenges faced every day, both in your life and your career.
9. What were your responsibilities in your last job?
How to answer
This is a good opportunity to demonstrate that you have experience or knowledge suitable for the job you are applying for.
Even if you have never done exactly this specific kind of job, usually you should be able to name a few "transferable" skills that you used in your previous work assignments that are quite easily applicable to the position you are applying for.
About Yourself

Remember your last (or current) job and compile a list of things you had to do while working there.

If you don't know where to start, picture your typical working day at one of your previous jobs, or college day if you are applying for your first job ever.

Describe the categories of tasks in bullet points. Then, try to remember the less ordinary tasks you had to do as well, and add them to the list.

About The Company

Research the company and the job description.

What do you expect to be doing in this job?

How would your performance be measured?

List a few items in bullet points.

About The Fit

Choose a few task categories that seem like a match between your experience and the requirements of the current position. Think of a couple of relevant examples to illustrate your experience.

Craft your stories using the STAR method.
Pro Tip
Optionally, you can end with a question like "Does this correspond with the expectations for this role? Could you give me an example of what is expected from a successful candidate within the first, say, 3 months?"
That can help you learn more about the company and the job, turn the "interrogation" into a conversation and will allow you to relax some tension.
10. What skills are you looking to develop on your next job? Why?
How to answer
When employers ask you about skills you would like to develop, they are looking for honesty in the way you answer.
A common target of the question is to discover how motivated you are to extend yourself. If you are willing to learn, then you are probably more motivated to do the job well.
They might also be trying to determine whether you'll be a good long-term fit for the company. Are you looking for an opportunity to grow with an organization – or will your plans take you to another employer before long?
About Yourself

Answering the question, reflect on yourself. Show that you are concerned and active about your own evolution.

You can indicate how development has worked for you in the past, give examples.

What qualities do you wish to develop in yourself both professionally and personally?
What kind of culture do you want to work in?
What motivates you?
What qualities do you feel make strong, healthy relationships?

What skills do you admire most in your role models?

And probably the most important is: What will help you to achieve your future goals?

Choose something you're already pretty good at, but still trying to improve even more. Maybe it is something that you learned a long time ago but haven't used in recent jobs very often?

About The Company

Do your research and learn as much as possible about the organization and the career path you might forge there. Read the company's story on their website, review their LinkedIn page, explore their blog.

What personal and professional qualities do they value and what can you learn if they hire you?

About The Fit

No matter what skills you say you want to improve, however, make sure that you follow it up with what you're doing about it.

Focus on a work skill that may not be critical to your industry or job level and demonstrate how you would like to develop this skill further, implying you already have a level of competency. This way you won't be sounding negative about yourself.

You could say something like "Coworkers often come to me for advice on how to write or format a document they are working on. I know that I am good at this (that's why they come to me in the first place), but I have no formal training on mentoring others. I would like to take a course or two on mentoring others that would help them while also improving my own skills in this area."

Say you are willing to learn new things and take on new challenges. Show employers that you're self-motivated and actively looking for ways to improve your skills and value in your career.
Pro Tip
If you choose one of the more common working skills such as networking, presentation, mediation, technical, coaching or mentoring, make sure that they are not anything that's vital or crucial to the job you're interviewing for.
For example, if you are applying for a manager position, you don't want to say that you need to work on developing your supervisory skills.
Was this article helpful?
Leave your honest opinion and help us improve our content
---
This page has been updated on August 24, 2020.