We analyzed 702 interview reviews for Summer Analyst at Goldman Sachs from various job sites, social network groups and forums.
Here are the most frequent job interview questions asked by HR managers during initial phone or onsite interviews. This list does not include technical or factual questions.
10 frequent non-technical questions for Summer Analyst at Goldman Sachs:
According to our research, hiring managers at Goldman Sachs looking to fill Summer Analyst role ask soft skills interview questions 9% more frequently than for other roles: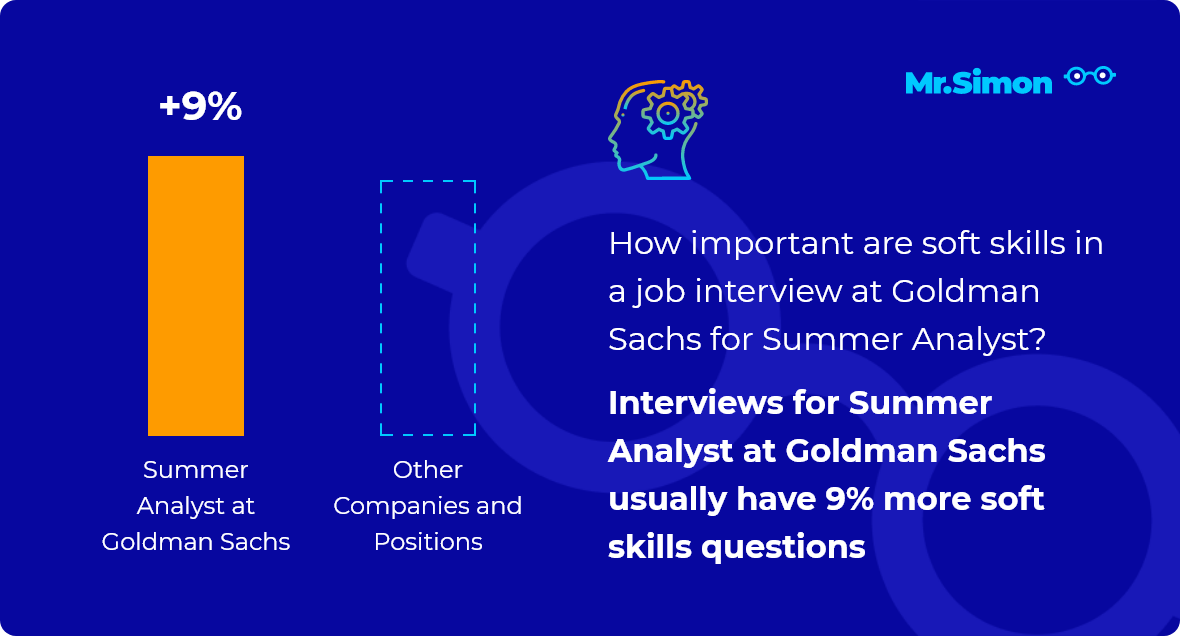 1. What is your greatest weakness?
top question
How to answer
This question ranks as the most challenging for many people. Fortunately, Mr. Simon is here to help!
Interviewers ask this question to gauge your level of self-awareness, your honesty and openness, and your capability for self-improvement.
About Yourself

No one is perfect and your interviewer doesn't expect you to be perfect either.

While it is good to be honest and open, it will not help you to put yourself down. What's important is to find a weakness that you have overcome or something that is not related to the position for which you are applying.

For example, one of our clients admitted that he is not very good at public speaking and that he has recently become a member of Toastmasters International to improve. What a respectful answer and approach, in my view!

About The Company

Research the company (website, social media, etc) to learn about the company culture. What personal and professional qualities do they value?

About The Fit

It is important that the weakness you decide to talk about is not one that will prevent you from performing the job for which you're applying.

For example, if you're applying for a front-end developer position, do not talk about how you are struggling to understand HTML code.
Pro Tip
Use this question to sell yourself! It's important to show how well you've overcome a weakness by motivating yourself and learning a new skill to grow professionally.
2. Walk me through your resume
How to answer
This question is often asked at the beginning of the interview. The interviewer wants to hear a brief overview, a summary of your professional experience, in order to have a starting point from which they can dig deeper. Structuring your answer wisely gives you a good chance to emphasize your Key Selling Points and to channel the conversation in the direction you want.
About Yourself

Print out your resume. For each of your recent (3-5 years) job experiences, write down 3-5 key points you feel you are strong at. For example, for your current (or previous) job, you may want to list skills like "Excellent presentation skills", "Employee Engagement guru", "Analytical skills", "Attention to detail" (they don't have to be all soft skills, but being aware of at least a few of your strong soft skills is important). Make sure you have examples for each of your statements.

If you have difficulties to think of these points, search online for job descriptions for similar job roles, and figure out which of those keywords appeal to you.

Now that you've gone through all your recent experiences, are there any points that repeat more often than others, or are especially important to you? These are candidates to be your KSP - Key Selling Points, highlight 3-5 of them.

About The Company

Research the company and the role for which you're being interviewed. When researching the company, find out what skills and qualities they value the most. Carefully consider the job requirements. What is it that you will be responsible for?

Now, write down 3-5 keywords from the job description that you find of utmost importance for this job role.

About The Fit

Try to establish the match between your own highlighted keywords, and those of the job description. These are your Key Selling Points! You should normally limit yourself by 3-5 such keywords or phrases.

Now, craft a story based on your career history. You don't have to go in chronological order - you can start with your current or last job experience, and then proceed to your previous ones, or focus on just the experiences that are relevant to your story, and only briefly mention the less relevant ones.

Select one point to highlight for each phase of your career. Make sure you ingrain your Key Selling Points in the interviewer's memory - after the interview is over, you want them to remember you as someone who is strong at XYZ, or experienced in A, B and C.

It's okay to focus more on stellar achievements and brag a little bit about them.
Pro Tip
Don't bore the interviewer by going through your resume line-by-line. Instead, WOW them by succinctly (keep it within 2 minutes) telling a story of how your career path has brought you to this point and how you are the best candidate for this role.
Super tip: The more you practice with Mr. Simon, the better you'll be at telling WOW-worthy succinct stories!
3. Tell me about yourself
How to answer
This question may sound vague, but it actually requires a matter of fact, concise and relevant answer. Here's how you can approach it.
About Yourself

What is your current occupation? Define yourself professionally in one statement. Pick 3 key skills that make you great at your work (your Key Selling Points). How have you applied these skills? Try to give some numbers to support your statement.

About The Company

Research the Company. Based on what you know about the company and the job description, why are you interested in the position you are applying for?

About The Fit

Based on your Key Selling Points and your knowledge about the company, why do you think you are a good fit for this position? Can you support your statement with relevant examples from your past experiences? Try to be concise and stay within 1-2 minutes.
Pro Tip
You can also end with a question like "Do you know what the current needs in the company/department are, where my skills and experience can help?" That can help you learn more about the company and the job, turn the "interrogation" into a conversation and will allow you to relax some tension.
Read our blog post to learn more about how to answer this question.
4. Why did you choose your major?
5. If I gave you $40,000 to start a business, what would you start?
6. Describe a time you worked on a team with individuals from different cultural backgrounds
7. Where do you see yourself in 5 years?
How to answer
This question belongs to a family of behavioral, or even more precisely, reflective questions. The interviewer wants to see whether you are reflective about yourself, whether you are ambitious and strive to grow as a professional, whether you like to learn and develop your skills. They are also looking for your ambitions to fit the career path opportunities related to the position you are applying for.
About Yourself

Presumably, you are interested to grow professionally. Think about the possibilities that may lie ahead for you: take a personality test (I recommend 16Personalities which is a Myers&Briggs-based test), research the internet on what career paths are possible with your skills and current job. What challenges do you like overcoming? For example, if you are applying for a software tester position, you may find it fascinating to master automated testing in full and eventually become a software engineer, or you may be a natural trainer and love coaching other people which may lead you to become a QA team or department lead, or you may be more interested in understanding business aspects of requirements which may logically lead you into a Business Analyst position. However, if you are happy just where you are and want to further your current skills, that is also fine as long as there is a growth path for you that can be imagined and described.

About The Company

Research the company to learn what career opportunities may be available in the department you are applying to, and what the trends are in the company in general. Is the business expanding, are they opening new locations, or starting new projects? Or are they heavily automating and cutting staff? Let's say you are applying for a UX designer position for a brand-new product. In the future, if the product becomes a success - which is what the company hopes for - the company will hire more designers and you may become a lead designer, or you may become a product manager.

On a side note: If you train your mind to be open to opportunities you will be amazed at how much this world has to offer to you!

About The Fit

And of course, try to see where the perfect fit lies between your own potential and aspirations, and the company's trends and hopes. However, beware of the risk of showing too much excitement for future opportunities compared to your attitude towards the current position. If you aren't really excited about the position you are applying for and you demonstrate this lack of enthusiasm, the interviewer may conclude that you are not a good fit for the current position. Try to find a source of excitement in the current position as well, otherwise, you may be doing yourself a disservice by applying to a position you will find boring in 2-3 months.
Pro Tip
This question gives you a good opportunity to showcase your Key Selling Points (e.g. "as I am very good at delegating tasks, I can easily see myself leading a team of software testers in the future…"), and end your statement by asking about current initiatives and goals at the company.
It is generally NOT a good idea to say something like "Oh, I cannot imagine what happens to me tomorrow, let alone in 5 years". This will show you as a person who is unimaginative and not forward-thinking enough to grow with and be a good fit for the company.
8. Tell me about your greatest professional accomplishment
How to answer
Of all your accomplishments (and I am sure you've had a great many of them!), you should choose the one most relevant to this job position.
About Yourself

Write down your Key Selling Points - your top 3-5 skills that make you a strong professional.

Write down a list of your top 3-5 professional accomplishments that you are most proud of. No need for lengthy descriptions, just 1-2 words for each one to help you recall each situation. Make sure you have developed the story behind each accomplishment and have a strong command of the details of what happened so that you can tell the story clearly and distinctly.

Along with each accomplishment, mark which of your Key Selling Points they showcase. How exactly?

About The Company

Based on your Research of The Company, what are their current needs? What are the major projects going on? What are the expectations for the position you are applying for?

About The Fit

Try to imagine yourself being an employee of the company you are applying to, say, at your 6th month into the job. Which of your Key Selling Points and accomplishments would be most relevant to the company? What "have you accomplished at your new job?"

Choose the most relevant accomplishment from your list and then practice telling your story.
Pro Tip
Most enterprises are now going through major transformations, often called Digital Transformation. Do your research on what it means and what is often involved, to get a better idea of the current goals and environments in companies. But one thing that definitely characterizes this transformation is striving for agility.
In particular, for startups (if you are applying to a startup or a small business), agility is their middle name, in order for them to survive among bigger sharks in the market.
So, demonstrating qualities like agility and adaptability should generally be helpful and quite a safe choice in most circumstances today.
9. Give me examples of how you have worked successfully both alone and in a team
10. What makes you unique?
---
This page has been updated on March 26, 2020.