We analyzed 294 interview reviews for Translator from various job sites, social network groups and forums.
Here are the most frequent job interview questions asked by HR managers during initial phone or onsite interviews. This list does not include technical or factual questions.
10 frequent non-technical questions for Translator:
According to our research, hiring managers looking to fill Translator role ask soft skills interview questions 22% less frequently than for other roles.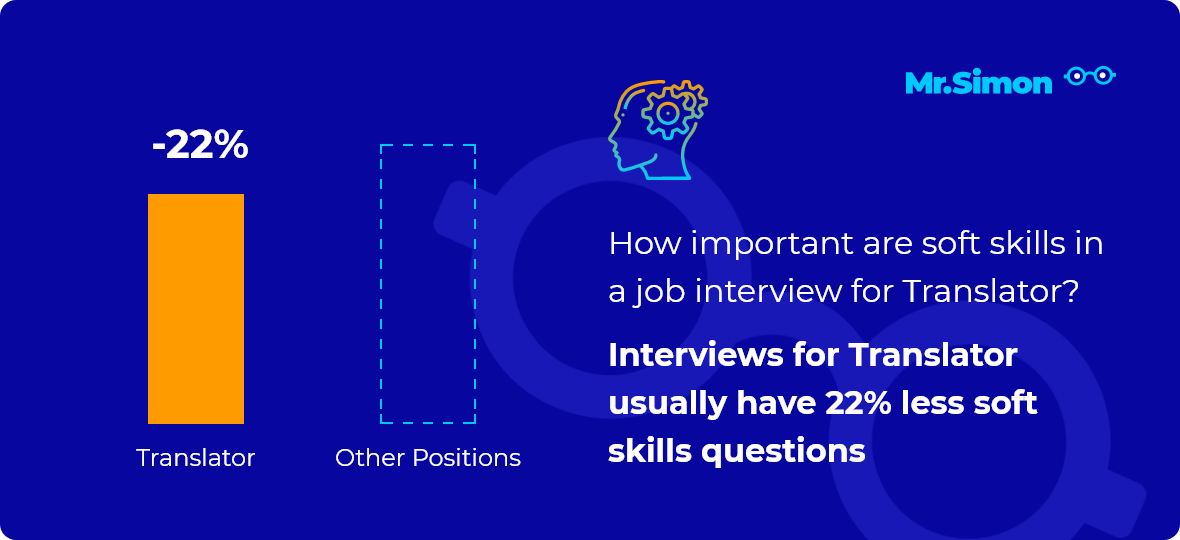 1. Where do you see yourself in 5 years?
top question
How to answer
This question belongs to a family of behavioral, or even more precisely, reflective questions.
The interviewer wants to see whether you are reflective about yourself, whether you are ambitious and strive to grow as a professional, whether you like to learn and develop your skills.
They are also looking for your ambitions to fit the career path opportunities related to the position you are applying for.
About Yourself

Presumably, you are interested to grow professionally.

Think about the possibilities that may lie ahead for you: take a personality test (I recommend 16Personalities which is based on Myers-Briggs test), research the internet on what career paths are possible with your skills and current job.

What challenges do you like overcoming?

For example, if you are applying for a software tester position, you may find it fascinating to master automated testing in full and eventually become a software engineer, or you may be a natural trainer and love coaching other people which may lead you to become a QA team or department lead, or you may be more interested in understanding business aspects of requirements which may logically lead you into a Business Analyst position.

However, if you are happy just where you are and want to further your current skills, that is also fine as long as there is a growth path for you that can be imagined and described.

About The Company

Research the company to learn what career opportunities may be available in the department you are applying to, and what the trends are in the company in general.

Is the business expanding, are they opening new locations, or starting new projects?

Or are they heavily automating and cutting staff?

Let's say you are applying for a UX designer position for a brand-new product.

In the future, if the product becomes a success - which is what the company hopes for - the company will hire more designers and you may become a lead designer, or you may become a product manager.

On a side note: If you train your mind to be open to opportunities you will be amazed at how much this world has to offer to you!

About The Fit

And, of course, try to see where the perfect fit lies between your own potential and aspirations, and the company's trends and hopes.

However, beware of the risk of showing too much excitement for future opportunities compared to your attitude towards the current position.

If you aren't really excited about the position you are applying for and you demonstrate this lack of enthusiasm, the interviewer may conclude that you are not a good fit for the current position.

Try to find a source of excitement in the current position as well, otherwise, you may be doing yourself a disservice by applying to a position you will find boring in 2-3 months.
Pro Tip
This question gives you a good opportunity to showcase your Key Selling Points (e.g. "As I am very good at delegating tasks, I can easily see myself leading a team of software testers in the future…"), and end your statement by asking about current initiatives and goals at the company.
It is generally NOT a good idea to say something like:
"Oh, I cannot imagine what happens to me tomorrow, let alone in 5 years".
This will show you as a person who is unimaginative and not forward-thinking enough to grow with and be a good fit for the company.
2. Why did you leave your last job?
How to answer
This question may be a little touchy for some people, but it's a question asked by interviewers, to find out why you left, in order to better understand how you may or may not make a good fit with their company.
Remember, never speak ill of your old company (this will not go over well).
About Yourself

Most likely, there are three possible reasons you left or are leaving your last job:

You are looking for a career change
You are unhappy with your current employment

You were let go.

Whatever the reason, it's best to always speak in a positive light.

About The Company

Based on your research about the company and the position, what do you like most about the company?

About The Fit

If you are looking for career advancement or a career change, you can be very upfront and honest. Be as enthusiastic as you can about the position.

If you were unhappy with your previous job, focus on the positives. Talk about the ways that you will best fit in with the company, in the role for which you're applying.

If you were let go, focus on the positive. Share your accomplishments at your previous employment.
Pro Tip
Whatever the reason you are looking for a new opportunity, always turn things around to show how you are the perfect fit for the job for which you are interviewing!
3. What experience do you have in this field?
How to answer
This question may help you convince the interviewer how smoothly you would fit into the position to which you are applying. It's your chance to WOW them! Be sure to focus on the experience that is relevant to the company and position.
About Yourself

Start with defining your Key Selling Points you want to emphasize for this position.

What job experiences brought you to those points?
What were the job titles and the most relevant responsibilities?

About The Company

Do your research of the company and the requirements for the position.

What is the company looking for in terms of experiences and qualifications?

What problems are they trying to solve with this position?

Highlight 3-5 key required experiences or skills from the job description.

About The Fit

Which of your Key Selling Points match with the required experiences or skills? Can you think of an example story showcasing this match?

Nowadays, every hiring manager wants results, so think in terms of specific achievements and try to structure your example accordingly.
Pro Tip
When telling your story, remember to talk about your STARs!
S - What was the Situation?
T - What was your Task?
A - What Action did you take?
R - Talk about the Results.
4. Tell me about yourself
How to answer
This question may sound vague, but it actually requires a matter of fact, concise and relevant answer. Here's how you can approach it.
About Yourself

What is your current occupation? Define yourself professionally in one statement.

Pick 3 key skills that make you great at your work (your Key Selling Points). How have you applied these skills?

Try to give some numbers to support your statement.

About The Company

Based on what you know about the company and the job description, why are you interested in the position you are applying for?

About The Fit

Based on your Key Selling Points and your knowledge about the company, why do you think you are a good fit for this position?

Can you support your statement with relevant examples from your past experiences?

Try to be concise and stay within 1-2 minutes.
Pro Tip
You can also end with a question like:
"Do you know what the current needs in the company/department are, where my skills and experience can help?"
That can help you learn more about the company and the job, turn the "interrogation" into a conversation and will allow you to relax some tension.
Read our blog post to learn more about how to answer this question.
Take a quiz
Take a quick quiz and check if you're ready to answer this question at your next job interview:
Pick the best answer:
AMy name is Andrew Franklin, I am 28 years old, and I am looking for a job that pays well.
BHello, my name is Natalie Price. I have two children and I love playing billiards and travelling. I am 33 years old.
CHi Mr. Simon, my name is Stanley Clark and I am a certified Project Management professional known for completing projects on time and on budget. I am passionate about building agile work culture and delivering results.
DHi Mr. Simon, my name is Dorothy Hanson. I have previously worked as an accountant in retail, but currently I am trying to transition into the field of healthcare.
5. Why did you choose your major?
How to answer
Everyone has his/her reasons to pick a major.
There are hundreds and hundreds of careers to choose from and most people pick a major that will give them a background in the career they want to pursue.
When you come to a job interview you will be definitely asked this question.
The interviewers are seeking to understand your underlying motivations for selecting this career.
It is also a good question for them to learn how much planning and thought actually went into your career selection. It is a window into your personality and interests.
About Yourself

This is your chance to highlight your strengths and how your major prepared you for your future plans.

Your answer to this question should reflect your passion and interest in the field you chose. Be genuine.

There's every reason to display your passions and interest in your major. They will give interviewers a sense of who you really are.

Think about who or what influenced your career choice and include the positive influences, not the negative ones.

How does this tie into your major?

How will you bring your passion and unique knowledge to the new company?

Emphasize your strong people skills and excellent communication skills, allowing you to connect with others.

Think of the skills and experiences you gained through your major, think back to assignments and projects from your studies, internships and previous jobs. Consider the skills you developed working on those projects.

About The Company

Write down a list of skills and experiences you gained through your major studies.

Then, look at the job listing itself.

Match up any of your skills and experiences that relate to the requirements of the job. How can you apply them to your new position, as well as the future?

About The Fit

Use this question as an opportunity to mention a few skills related to your chosen major that would also be relevant in the workplace.

Point to a good culture fit.

Be positive, showing your enthusiasm. Let them know you're excited to be where you are.

Discuss what you enjoy about the industry you're considering and why you could see yourself working in it. Even if your major is not directly related to the job, you can likely find connections between the two.

This is also a chance to explain other ways you have developed skills that will fulfill the role you're applying for.

For example, perhaps you were a biology major who is applying for a job in computer programming. You might explain that you took a number of online and extracurricular classes on programming to develop the skills needed for the job.
Pro Tip
Let your past decisions and accomplishments shine through. Once you nail your interview, you'll be on your way to a successful career path.
6. What would you do if you were given a difficult task to complete in an unrealistic time frame?
How to answer
Unrealistic deadlines are an inevitable part of our life at work.
Deadlines themselves are already challenging and highly stressful in our dynamic environment, but if they are really tight or even unrealistic, you have to do your best to find strong solutions to handle them.
That's why your answer to this question will help the interviewer to learn if you are able to stay cool under pressure, think on your feet, prioritize your tasks, and also plan, assess, detail and specify.
About Yourself

Have you ever had such a situation at your work?
What were your actions?
Were you honest and brave enough to say that it is impossible just after getting the assignment?
Or did you wait until the last minute?
Did you ask your boss for additional help, information, or an extended time frame, or for rescheduling your current tasks?

About The Company

Research the company and its culture. What problems and obstacles can the employees face with this position?

Try to know more about expectations in the company, and how realistic they are.

What are the company's plans, for example, will there be a degree of pressure like hitting targets, meeting deadlines or managing multiple tasks at once?
How might this impact you and how you deal with pressure?

About The Fit

Interviewers look for a practical approach and honesty, rather than your hard work stories.

Show yourself as a perfect fit for the position who is a passionate, ambitious person and mention that you find challenges highly motivating, even if they are stressful.

What are your approaches to meeting such a stressful situation?
Do they correspond with the company's methods?
Pro Tip
Of course, there are times when unrealistic deadlines and expectations cannot be met. But what is more important is that when you are inspired, enthusiastic, when you believe in the challenge of meeting goals, you become stronger, you learn your lessons and you have more opportunities to become successful.
7. What were your responsibilities in your last job?
How to answer
This is a good opportunity to demonstrate that you have experience or knowledge suitable for the job you are applying for.
Even if you have never done exactly this specific kind of job, usually you should be able to name a few "transferable" skills that you used in your previous work assignments that are quite easily applicable to the position you are applying for.
About Yourself

Remember your last (or current) job and compile a list of things you had to do while working there.

If you don't know where to start, picture your typical working day at one of your previous jobs, or college day if you are applying for your first job ever.

Describe the categories of tasks in bullet points. Then, try to remember the less ordinary tasks you had to do as well, and add them to the list.

About The Company

Research the company and the job description.

What do you expect to be doing in this job?

How would your performance be measured?

List a few items in bullet points.

About The Fit

Choose a few task categories that seem like a match between your experience and the requirements of the current position. Think of a couple of relevant examples to illustrate your experience.

Craft your stories using the STAR method.
Pro Tip
Optionally, you can end with a question like "Does this correspond with the expectations for this role? Could you give me an example of what is expected from a successful candidate within the first, say, 3 months?"
That can help you learn more about the company and the job, turn the "interrogation" into a conversation and will allow you to relax some tension.
8. What is the difference between hard work and smart work?
How to answer
Hard work and smart work go hand-in-hand.
Although we need to do both, working smarter helps us to achieve success in our lives more quickly and efficiently.
By asking this question, the interviewer wants to know that you understand the difference between the two and will make the most efficient use of your time.
Although hard work shows that you are putting a great deal of time, effort, and passion into your work, smart work shows that you can set goals, understand how to prioritize, know what the organization's plans and goals are and how to set realistic time limits for each task or target.
About Yourself

A little introspection is necessary for this question.

What type of an employee are you?

Do you work hard or smart, or both?

Although they're best used together, working smarter must dominate.

Think of specific examples where you may have worked hard but you worked even smarter, to show you can tell the difference.

How do you deal with planning, managing, delegating and having realistic goals?

Emphasize these skills during your interview, talk about times that you developed a strategy or suggested a new approach to the work situation; provide examples when you prioritized multiple projects.

About The Company

Do your research about the company and its culture.

What challenges and kinds of situations may you face in your new role?
What qualities of employees does the company value?

Read the job description carefully and the list of responsibilities required.
Review the company's website and employee social media accounts - that will give you a better idea of how people work in this company.

About The Fit

Different jobs and positions require different styles of working.

If the job you are applying for requires long hours, monotonous actions and little in the way of innovative thinking, then working hard will probably fit the bill.

On the other hand, if the work requires achieving goals with quality, successful strategic approaches and the kinds of methods that will bring the results forward, then working smart is the appropriate choice.

In the end, you need to show the hiring manager that you know the difference between working hard and working smart and how to take the best of both to achieve success.
Pro Tip
If you can incorporate working hard and smart together, you will achieve great outcomes and lead yourself to success in life and at work.
You can end your answer with this question:
"And do you know what current goals the company/department is trying to achieve?"
It can help you learn more about the company and the job, turn the "interrogation" into a conversation and it will allow you to relax some tension.
9. What would your colleagues and managers say is your best quality?
How to answer
This question is an open invitation to talk about your Key Selling Points and professional strengths but from another person's point of view.
Most prospective employers ask this interview question to compare your self-assessment to how your references might describe you, as well as to assess your own perspective on your soft skills, to determine how well you'd fit into their group dynamic and company culture.
About Yourself

Spend some time reflecting on how others perceive you so that you can speak smoothly without overinflating or undervaluing yourself.

Recall conversations with coworkers or managers in which you received acknowledgment or feedback. Take a look back at what your managers said about you in annual reviews.

Ask former coworkers or managers to help you to determine the strengths that made you unique.

What would they consider as your best traits?
Would they say that you are dependable, trustworthy, flexible, and honest?
Do you always show up to meetings on time and promptly reply to emails?

Would your coworkers say you are punctual and responsive?

If you frequently lend a hand when coworkers or customers struggle, it is highly likely they will say that you are helpful.

About The Company

Research the company to learn what the employer or interviewer values. Compare their values with your qualities that you think would be a good fit.

Carefully read the job description as it is a great guide for what employers want to see in candidates.

About The Fit

Use the question as an opportunity to emphasize your strengths and mention your Key Selling Points. It's important to highlight how well you communicate and how well your personality and work style will match the company and team culture.

Though you may have several different areas of strength, focus on those that are relevant to the job. Adaptability, critical thinking, problem-solving, creativity, and effective communication – are the most common skills that can be helpful in any job, be sure that those you worked most closely with will name them when speaking about you.

Using the STAR method, you can describe a successful team project from your previous job, mentioning how well you interacted with your colleagues.

For example,

"My past coworkers have told me that I am highly organized and quite good at time management. During one specific project, the other team members complimented me for developing and sticking to a timeline for all the different aspects of the plan. We ended up successfully completing the project ahead of time, and it went really well! I'd love to have a similar relationship with my team members in this position."
Pro Tip
A potential hiring manager may check your references, so it's important to be honest and consistent with the feedback you give the interviewer, and the feedback the former manager or colleagues will give to you.
10. What did you like or dislike about your last job?
How to answer
Your answer to this question will show the interviewer your overall perspective (positive or negative) of your prior role and your approach to what you liked (or didn't like) about that aspect of your work. While answering such a question remember that diplomacy is the key to corporate success.
The answer you give to this question can say a lot about you, for example:
Can you handle situations professionally when you deal with pressure?
What strong qualities (your Key Selling Points) can you emphasize answering the question?
Are you a positive person, and not someone who complains, holds grudges or badmouths their co-workers or boss?
Do you exhibit loyalty, enthusiasm, dedication, and energy?
Are you easy to work with?
About Yourself

Reflect on yourself; stick to the facts and don't go into emotions.

List the things you were responsible for in your last job.

Which of them did you like most? Why?
What were the responsibilities you liked less? Why?

Was there anything you consider completely unacceptable?

If you feel that your answer will not be complete without a nod toward the negative aspects, then keep it focused on tasks, situations, or company structure, and not on people. The overall tone must be positive and friendly.

About The Company

What does your research tell you about the company you are applying to?
Will there be situations like those in your former job you don't want to get into again?
What are the requirements for the position?
What challenges will you face there?
What responsibilities will you be tasked with?

About The Fit

Which of the responsibilities you liked will also be part of your future responsibilities in your new role? Don't forget to show your excitement while telling about these.

If there were responsibilities you disliked that are not part of the job description, don't bring them up.

By asking about your feelings toward a previous job the interviewers often aren't that interested in the list of actual likes or dislikes you can provide. Rather, they're trying to judge your character by listening to the tone and attitude with which you respond to a tricky question.

However, details of your likes and dislikes can also reveal whether you'll be a good fit culturally at the company at hand. Showing excitement about responsibilities that will most likely be included in the role you are applying for can help strengthen your position as a fit.

Mentioning that you are ready for more challenges and opportunities, that the position you are applying for is a great match for your skillset and that you feel you would be an asset to the company or department is often a safe way to show your excitement.
Pro Tip
Telling your stories, use the "sandwich method": start off by mentioning a positive, then mention the negative, and try to pivot back around to something positive.
You can do that by talking about how you managed the aspect you disliked, or by making a connection to the job you're interviewing for.
Was this article helpful?
Leave your honest opinion and help us improve our content
---
This page has been updated on September 14, 2020.