We analyzed 742 interview reviews for CDW from various job sites, social network groups and forums.
Here are the most frequent job interview questions asked by HR managers during initial phone or onsite interviews. This list does not include technical or factual questions.
7 frequent non-technical questions at CDW:
According to our research, hiring managers at CDW ask soft skills interview questions 68% more than at other companies: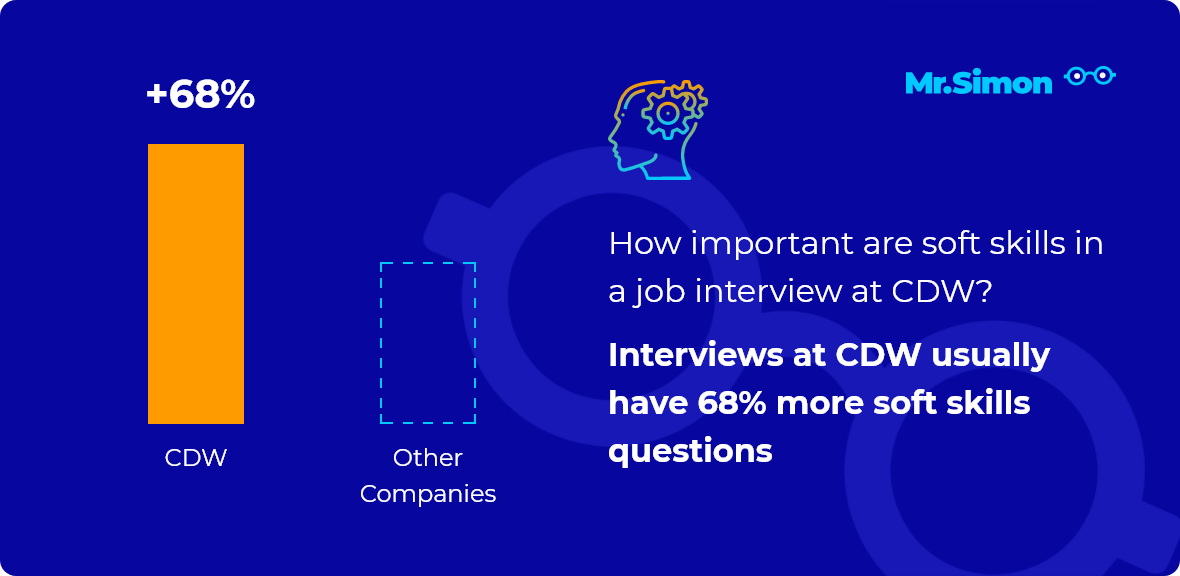 1. Tell me about a time when you've resolved a problem for a frustrated customer
top question
How to answer
Customers are the lifeblood of any business. How you handle a disgruntled customer can make the difference between closing a sale and failing to do so. It takes good people skills to handle such situations, and this question is a good opportunity to demonstrate your people skills.
About Yourself

Think of a time when, as a customer, you had a problem with a company. How did you feel? How did you want to be treated? How would the situation ideally be resolved? If it were you on the serving side of the table, what would you do differently? Have you had such experiences in the past where you helped a frustrated customer? What was the critical factor in a successful resolution of the situation? Try to define your principles or approach.

For example, I know that people tend to be frustrated when they feel neglected and unimportant. Whenever possible, I try to meet in person and establish face-to-face contact with someone who feels disgruntled, so that I can fully focus on the situation. (And believe me, checking your phone while speaking with such a customer is definitely NOT a good idea). Of course, this may not always be possible in your line of business or profession, but I guess you see what I mean - showing full attention greatly improves your chances of mitigating the situation.

About The Company

Every company relies on customers. Research the Сompany you are applying to and try to find out what their standards of customer relationship or service are, as well as try to find out some real cases where the customers complained about the company, and what the company did to mitigate the situations (a possible source might be Yelp! or another social media platform). Based on your research, how does the company treat customers? How do they resolve customer issues?

About The Fit

How can you make things better and WOW the customer? Give an example that demonstrates that your approach to resolving customer frustrations is in line with the company policies.
Pro Tip
A disgruntled customer generally just needs someone to listen to them.
The three A's of customer service can help diffuse the difficult situation:
Acknowledge the customer's feelings,
Apologize for the customer's experience,

Admit the customer is experiencing an issue and you will do your best to assist them.
Add the extra "A" and Ask for the customer's contact information so you can update them on any progress on their issue.
Statistics
This question is asked 2.5x more frequently at CDW than at other companies.
2. Name a time you had to convince someone to do something they did not want to do
How to answer
Just about every organization is filled with diverse employees that are often called upon to collaborate on projects. Each one of these individuals may believe that their ideas are the best. Anytime you are collaborating with others, disagreements are bound to happen, and convincing others to do things your way is an important skill in any workplace. Employers ask this question because they want to know that you are thoughtful in your persuasion tactics and can back up your position with research and facts.
About Yourself

Do you remember a time when you had to convince someone of something in a work setting? It may have been getting a raise, negotiating a business deal, completing a sale, resolving a conflict, pitching an idea, etc.

Are you both initiative and persuasive?
Are you passionate and articulate enough to influence people to action?
Can you think critically about problems and communicate your ideas well?
Are you able to provide a different perspective to others to help convince them of your view?
Are you able to stay patient and friendly in such situations?

About The Company

Research the company reading the job description and listing skills and responsibilities that the hiring manager is looking for. What personal and professional qualities do they value? How do employees value each other?

About The Fit

Share a story where you successfully influenced others on the right decision for a project or initiative. Try to pick a story that would not only answer the persuasion question but also showcase a skill needed for the position you are interviewing for. Your story should display positive behaviors of influence, such as using data and inspiring trust rather than fear. Your answer should also display your ability to think critically about a problem and come to a sound solution. Tell your story using the STAR method. Be sure the story you pick ends in success.
Pro Tip
Do not tell a story where you manipulated others into following your idea. Remember, the story you tell should be one where you have the right idea or decision. If you've never had to convince somebody of something, then give an example of how you would do it. Your convincing strategy should be data-driven, not opinion driven. Opinions are not convincing enough.
Statistics
This question is asked 31.3x more frequently at CDW than at other companies.
3. Describe a time when you had to overcome a significant obstacle on a job
How to answer
This is a tough question because you're forced to talk about a difficult time with a complete stranger. Fortunately, it's also a great opportunity to turn a big challenge into a great accomplishment. This question is designed to help the interviewer discover what type of problem solver you are. Why do employers ask this question? It's because they want to know that they're hiring someone who can think on their feet and who is resilient when facing challenges.
About Yourself

It's your chance to show that in tough times you turn to your inner strength and possess skills to find the right solutions. You probably had to solve many problems daily at work. It's high time to remember them. If you do not prepare examples in advance, this question will get you off guard and you will find it difficult to remember all the details on the move.

Start with recalling a few examples of real obstacles you coped with. For each of them, think about:

What was the project or task you were trying to accomplish?
What was the obstacle? This can be a specific problem related to your job or a higher-order issue across the organization.
What steps did you take to address the issue?
What decisions did you have to make?
How did the company benefit from your decisions?

How would you describe your approach, or what lessons have you learned?

Be careful how you respond to this question. Make sure that you select a difficult work situation where you were not the cause.

About The Company

When you research the company, try and find out what kind of challenges they are facing. Try to find out what they need in terms of problem resolution. Search for online reviews, complaints and any other useful resources. What problems and obstacles can the employees face with this position?

About The Fit

This is your opportunity to showcase your problem-solving skills, resilience, and strength of character. Talk through your problem-solving process and show how you can think on your feet.

Pick an example relevant to the position you are aiming for. Let's say, you are applying for a blog writing job. The job description mentions that a successful candidate must have experience working "in a dynamic environment." You could mention a situation in which you had to write an article on short notice because your co-worker failed at the last moment to complete the assignment. You were short of time but worked extra hours to prepare the article successfully and on time. This answer would show your experience in blog writing, your sense of responsibility, ability to achieve results under stress, your willingness to go the extra mile, your problem-solving skills.
Pro Tip
This question is not about your past, it's how you deal with things that will happen in the future, so try to keep your answer short and focused. After all, the interviewer is really looking for what you took away from the situation and doesn't need to know the full backstory of what happened.
Use the STAR method to prepare your story and practice it so that you can stay within 1-2 minutes. Make sure to show that you remained positive when overcoming a hurdle at work. Positive attitudes lead to positive outcomes.
Statistics
This question is asked 4.9x more frequently at CDW than at other companies.
4. Tell me about a time when you went out of your way to satisfy a customer. What was the outcome?
How to answer
This question lets the interviewer know how well you think on your feet and how great your customer service skills are.
About Yourself

Think about the time you were a customer, how were you treated and how could your experience have been made the best?

Now think about the times you had to help a customer. What did you do to make that experience unforgettable for the customer? How did you exceed expectations?

About The Company

Think carefully about the company and what they are looking for. Have you found any reviews online that can help you identify what the company's greatest challenge is? What are their standards for treating customers? Do your Research.

About The Fit

Think of the company's standards and ideals and connect those with your skills and qualifications. If you can remember more than one example, choose the one that fits best with the company industry and standards. Make sure you describe the positive outcome both for the customer and the company.

Use the STAR method to craft your story.
Pro Tip
Showing you have compassion and empathy for customers is always the best way to answer the question. However, always remember to frame your answers in terms of how the company addresses these issues.
Statistics
This question is asked 6.2x more frequently at CDW than at other companies.
5. Give me an example of a goal you reached, and tell me how you achieved it
How to answer
Hiring managers ask this question because they want someone who is not just goal-oriented but also is able to achieve those goals. They want to see if you are the right person who knows how to utilize your strengths, to gauge your potential to fulfill your given responsibilities. Asking this question, they are able to get to know if you can set personal and career goals and then dedicate yourself to achieving them. And most importantly, they want to understand how you view success, failure, and risk-taking.
About Yourself

Think of an example from past work (or student experience if you are just starting out in your career). Choose an example that shows several competencies and your best personal qualities. Tell your story using the STAR method. Keep it professional, not personal.

What was the situation that led to setting your goal?
What steps did you take to achieve your goal?
How did it help you, your team or your employer at the time?
What did you learn? What challenges did you overcome?
How did this help you get to where you are today?

About The Company

Based on your research of the company, what are the current goals and environments? What are the expectations for the position you are applying for? What skills and qualities do they value the most? What will you be responsible for? Make sure your qualities match the values and qualities that the company is looking for.

About The Fit

Give an example of a goal you both set and achieved. Ideally, this should be a professional goal, such as improving time management skills, achieving new performance targets or learning a new skill.

Your answer should provide a list of the steps you took towards your goal. Keep this section brief, as they are more interested in finding out what you have learned from the process and how you will use this in your career. Talk about how achieving your goal has made you more aware of your strengths and weaknesses, giving you a better understanding of how to approach your work assignments.
Pro Tip
Having a goal that you have set and reached shows that you have determination, drive and can finish what you set out to do.
Here is an example of how you can answer this question. "When I started working for XYZ, I wanted the title "Employee of the Month". It was a motivational and challenging task for me. I liked the work and the people I worked with and set out to help my colleagues, supervisors and clients in every way I could - which is something I would have done anyway. The third month I was there, I was honored as the Employee of the Month. It was good to achieve my goal, and I actually found myself in a management position pretty quickly, I think, because of my positive attitude and perseverance."
Statistics
This question is asked 16.4x more frequently at CDW than at other companies.
6. Where do you see yourself in 5 years?
How to answer
This question belongs to a family of behavioral, or even more precisely, reflective questions. The interviewer wants to see whether you are reflective about yourself, whether you are ambitious and strive to grow as a professional, whether you like to learn and develop your skills. They are also looking for your ambitions to fit the career path opportunities related to the position you are applying for.
About Yourself

Presumably, you are interested to grow professionally. Think about the possibilities that may lie ahead for you: take a personality test (I recommend 16Personalities which is a Myers&Briggs-based test), research the internet on what career paths are possible with your skills and current job. What challenges do you like overcoming? For example, if you are applying for a software tester position, you may find it fascinating to master automated testing in full and eventually become a software engineer, or you may be a natural trainer and love coaching other people which may lead you to become a QA team or department lead, or you may be more interested in understanding business aspects of requirements which may logically lead you into a Business Analyst position. However, if you are happy just where you are and want to further your current skills, that is also fine as long as there is a growth path for you that can be imagined and described.

About The Company

Research the company to learn what career opportunities may be available in the department you are applying to, and what the trends are in the company in general. Is the business expanding, are they opening new locations, or starting new projects? Or are they heavily automating and cutting staff? Let's say you are applying for a UX designer position for a brand-new product. In the future, if the product becomes a success - which is what the company hopes for - the company will hire more designers and you may become a lead designer, or you may become a product manager.

On a side note: If you train your mind to be open to opportunities you will be amazed at how much this world has to offer to you!

About The Fit

And of course, try to see where the perfect fit lies between your own potential and aspirations, and the company's trends and hopes. However, beware of the risk of showing too much excitement for future opportunities compared to your attitude towards the current position. If you aren't really excited about the position you are applying for and you demonstrate this lack of enthusiasm, the interviewer may conclude that you are not a good fit for the current position. Try to find a source of excitement in the current position as well, otherwise, you may be doing yourself a disservice by applying to a position you will find boring in 2-3 months.
Pro Tip
This question gives you a good opportunity to showcase your Key Selling Points (e.g. "as I am very good at delegating tasks, I can easily see myself leading a team of software testers in the future…"), and end your statement by asking about current initiatives and goals at the company.
It is generally NOT a good idea to say something like "Oh, I cannot imagine what happens to me tomorrow, let alone in 5 years". This will show you as a person who is unimaginative and not forward-thinking enough to grow with and be a good fit for the company.
Statistics
This question is asked 44% less frequently at CDW than at other companies.
7. Tell me about yourself
How to answer
This question may sound vague, but it actually requires a matter of fact, concise and relevant answer. Here's how you can approach it.
About Yourself

What is your current occupation? Define yourself professionally in one statement. Pick 3 key skills that make you great at your work (your Key Selling Points). How have you applied these skills? Try to give some numbers to support your statement.

About The Company

Research the Company. Based on what you know about the company and the job description, why are you interested in the position you are applying for?

About The Fit

Based on your Key Selling Points and your knowledge about the company, why do you think you are a good fit for this position? Can you support your statement with relevant examples from your past experiences? Try to be concise and stay within 1-2 minutes.
Pro Tip
You can also end with a question like "Do you know what the current needs in the company/department are, where my skills and experience can help?" That can help you learn more about the company and the job, turn the "interrogation" into a conversation and will allow you to relax some tension.
Read our blog post to learn more about how to answer this question.
Statistics
This question is asked 66% less frequently at CDW than at other companies.
---
This page has been updated on March 26, 2020.