Now, at the dawn of the 3rd decade of the century, the recruitment and job interview processes have undergone big changes that make the procedure both easier and more challenging at the same time.
Some of the first steps remain the same. You still complete and submit the application, then receive an email or phone call from a recruiter to set up a phone interview to move forward in the hiring process.
However, the invitation to meet in person with the hiring manager is no longer the norm. There is no need to travel somewhere to present yourself for interviews. The employer does not need to spend resources, allocate time and space in order to interview the candidate. All because this meeting will be virtual!
Zoom Is the Fashion!
More and more job interviews are conducted using various technological platforms. Although some companies use specialized recruitment programs like HireVue or Jobma, most recently Zoom has become the #1 Video Conferencing Choice for interviewing candidates virtually.
Just prior to the shutdown, when I found myself looking for a new position, a recruiter for a large hospital contacted me via email to set up a job interview. He said that rather than using the phone he preferred to use Zoom so that we could meet face-to-face over the internet. Although I had heard of Zoom, I had never used this platform. Truthfully, it made me nervous because I was not familiar with the technology and unsure how I would come across using it.
The actual interview went fairly well and led to an opportunity to meet with the hiring manager in person at her office. Although I did not land that particular job, the technology part of the process helped me to understand where job interviewing, and hiring are going in the 21st century.
So, what is Zoom? It is an integral part of the job search/interview process nowadays. Zoom lets you connect remotely for video and/or voice-call meetings with one or more people. It has various tools such as screen sharing, text chat, video recording and muting. Besides, it has a smartphone app for Apple and Android, as well as a downloadable app for computers that makes it easy for you to use it.
With the help of this video conferencing software, business continues to operate qualitatively, and schoolchildren have the possibility to learn under quarantine conditions. It's the same story with job interviews. You need to just click on a Zoom link in an invitation and there you are, speaking with your hiring manager. Once you learn how to use this platform properly, it can become an advantage during your next video interview.
But what should you know about the process? How should you prepare? What are the best practices? What pitfalls should you avoid in the virtual world of job interviews?
Preparation
Getting ready for any job interview, whether in person or online, requires preparation. We are not going to spend much time on this topic since you should already know these steps by heart. But just as a reminder, do your homework by researching the company, go over your Key Selling Points, practice your STAR stories, and prepare questions for the interviewer.
Internet Connection
Your internet connection should be strong and reliable, a weak connection may cause delays, freeze-ups and other problems that will hurt your chance to make a good impression. You can check whether you have an appropriate bandwidth for your upcoming interview with the help of popular connection quality test tools like Speedtest.
Make sure that you have closed non-essential apps on your computer to help maintain proper bandwidth and finally ask others in your home not to use their devices during the time of your interview. If you are connecting to the internet wirelessly, you may want to move closer to the wireless router.
Lights, Camera, Action!
Proper lighting is essential. You don't want to be sitting in the dark so that the interviewer can barely see you.
How can you make a good impression on someone when all they can see is your shadow?

If you avoid having a light source behind you, in particular a window, this will help reduce those shadows. You can ensure that you are well lit and clearly seen by having a light source in front of you.
Some people use a ring light, which can be clipped onto your monitor providing good illumination.
If you don't have a camera already built into your computer, you will have to invest in one. Decent cameras can be fairly economical, or they can be incredibly expensive, so pick one out that works for you that's within your budget. Many of them come with built-in microphones, but we recommend that you don't rely on the camera's microphone (more on this below).
Make sure the camera is pointing at you and that you look at the camera when speaking to the interviewer. Whether the camera is built-in or clipped on, try not to look at the other person's image on your screen when speaking to them. If you do this, what they will see is you looking somewhere else and not at them and this can be very distracting.
Invest in a pair of headphones that allows you to hear very clearly with no distortion. Headphones should come with a built-in microphone which will enable you to be heard clearly by others as well.
A wired set is better than wireless like Bluetooth, again because it reduces distortion. Check the sound levels on your computer for both hearing and speaking prior to starting the interview.
If you are unsure of your computer's capabilities, then you can explore your smart phone's capabilities. Today's smartphones may have more processing power than laptops that are five years old.
Location and Background
Some of us have home offices or other rooms set aside specifically as a work location. That's where our computer is set up and where we feel most comfortable when working from home. Others might use their dining room table or the man cave in the basement. Regardless of where you set yourself up, make sure that it looks appropriate and uncluttered. Strive to have a professional look.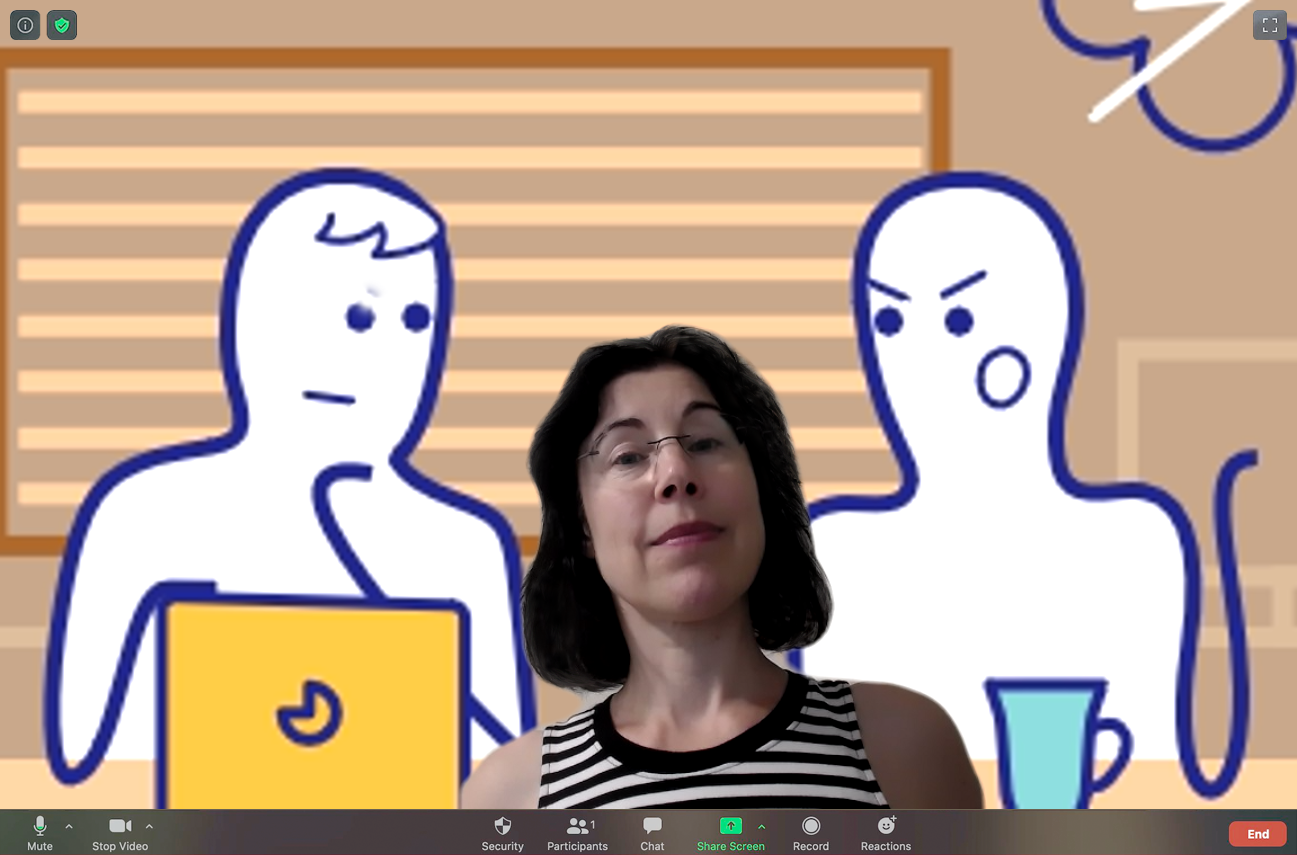 Equally important is your background. Make sure it does not distract other meeting participants from the main subject of the conversation which is YOU and your story. If you can, try to have a simple and neutral background behind you, like a bare wall with minimum details.
If your natural background is messy and it is not easy for you to change it – you can use an excellent feature offered by Zoom called Zoom virtual backgrounds. Just make sure your computer meets the requirements.
Don't choose virtual backgrounds that are too bright, unless, of course, your choice of the picture is an essential part of your personal brand. For example, we use the picture with Mr. Simon's buddies as our background just because it extends the experience of Mr. Simon and supports our brand.
Have Materials at the Ready
Just as you would at an in-person interview, you should have certain items ready to hand for your virtual interview. A pen and paper to take notes, a glass of water, a copy of your resume for reference, a copy of the job description (with your own notes or key words on your copy for a quick reference), and perhaps a list of the names and job titles of some of your references.
How to Dress for Success
Wearing the proper business attire is always right for a job interview. Even if you are interviewing for a job in a fairly laid-back organization, it is generally thought best for a man to wear a business suit and tie and for a woman to wear a business suit or a dress that is appropriate for an in-person interview.
A virtual interview should be no different but can be modified somewhat to allow for the online format. Here, business casual is acceptable. Wearing something that would be appropriate in most of today's offices is OK. A collared dress or casual shirt and dress, or casual pants for men and a fashionable blouse or shirt, and slacks or skirt for women are just fine.
Don't forget – whatever you do – wear pants. If you happen to move about for any reason, and the pajamas or shorts you are wearing show on the screen that would not be a good look!
Practice Run
Before the interview, work with a friend or family member to ensure your camera and headphones are working properly and that the lighting is at its best. A day or two prior to the interview, test the applications on your computer or phone with your friend or family member. Check that your computer works well as well as your lighting and background.
Avoid Distractions
If you are interviewing from home, you want to handle distractions in a professional manner, without losing your sense of humor. Put your phone on mute or leave it in another room.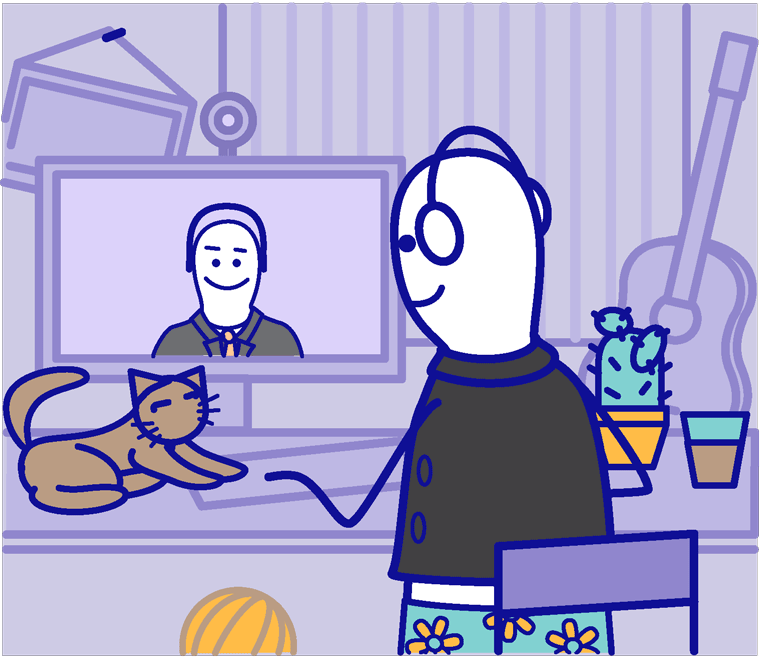 Kids, pets, your significant other might just walk in on the interview (especially if you don't have a room with a door). When this happens, try your best to handle it with good cheer.
Do not show impatience or – God forbid – anger. Excuse yourself to the interviewer and pick up the cat or calmly tell your child/spouse/whoever that you have to finish, and you will see them afterward. Interviewers understand it happens to everyone at some point.
Maintain Eye Contact
Make sure you maintain eye contact with the interviewer. Don't be looking off or spending time looking down at documents or another computer screen (in fact if you have more than one computer on, turn off the one you are not using for the interview). The more focused you are on the other person, the better the interview will go for both of you.
Be on Time and Ready
Just as with an in-person interview, you should arrive on time. Actually, you should click on the Zoom meeting link at least a few minutes early to be certain that the connection works correctly and if there is a problem, you have time to contact the interviewer about the problem.
As soon as the connection goes through – put a smile on your face. When your image is on the screen, you will be smiling at the interviewer and he/she will smile back. Say hello as soon as you can and thank the person for the opportunity to speak with them.
Show Enthusiasm and Say Thank You
Maintain your enthusiasm throughout the interview. Show how interested you are in the job. Remember, in an online interview, you don't have the same opportunity to build a rapport with the other person, as you would in person. If you are comfortable, ask about the next steps in the process and don't forget to thank the interviewer for speaking with you today.
Summary
The world is constantly changing and technology develops at a fast pace, so we have to be open to change and keep up or we will be left behind. No matter the changes in technology, the secret to being successful in interviews will always be the same: preparation and practice.
If you want to be an advanced user of this social medium of the moment and learn more about how to use it, you can always visit Zoom Help Center.
About the Author: Stuart Weiner has over 25 years of experience as a compliance officer and auditor, primarily in the healthcare field, and is currently the Principal of Integrated Compliance, a compliance consulting firm. He also serves as the registrar for the training committee at the Professional Service Group of Central New Jersey (PSGCNJ) – a U.S.-based organization that helps job seekers in their career transition.