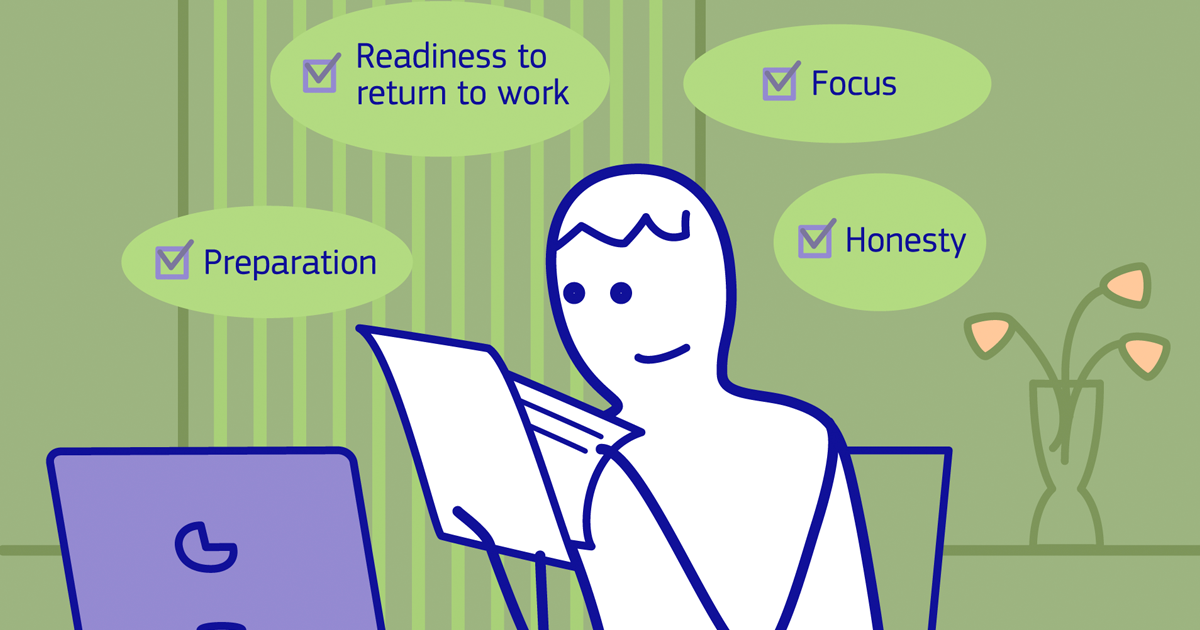 What's in Your Toolbox
What do you think of when you picture a toolbox? Is it a carpenter's toolbox with a collection of hammers, chisels, drills, and saws?
How about a mechanic's toolbox with its wrenches, pliers, and screwdrivers?
These are, of course, vital for the skilled workers doing these jobs. Carpenters and mechanics could not do their jobs without their toolboxes or the tools they contain.
In this article, we are going to take a close look at another type of toolbox, one that holds a different set of tools.
This is your personal toolbox that contains your skills, traits, best practices, beliefs, and approaches. These are the tools that define you and communicate your value to others, including prospective hiring managers, your current boss, or your project teammates.
Most importantly, these tools help define you to yourself.
Whether you are unemployed and looking for your next opportunity or thinking of making a move from your present job, you will need to ensure that you have the necessary tools to express your value.
Self Awareness
Let's start right at the beginning by exploring self-awareness. Knowing how to define and describe yourself will enable you to communicate your value to others.
Self-awareness allows you to have control over your actions by recognizing your most important skills and beliefs, how you approach and solve problems, and how well you work with and/or manage others. With a strong sense of self, you will be able to convince others of your worth.
So how to begin. By creating your Toolbox! Remember, your toolbox is packed with those items that make you unique.
Since each person will have a set of tools that are specific to them, you must think first about Who You Are (the key words that define you) and What You Do (the services that you offer).
Think Key Words
The first step on the journey to employment self-awareness is to recognize and focus on those "Key Words" that identify you.
Start by making a list of the individual skills, experiences and interests that make you who you are.
To give an example of how this might work, let's take the role of project manager. Regardless of the industry this person works in, many of the following key words would very likely be found in a project manager's toolbox:
Process Improvement
Problem Solving
Creativity
Agile
Patience
Detail-Oriented
Visualization
Leadership
Requirements Analysis
Execution
Delegation
Planning
Results
Each of these key words identifies an attribute that a project manager would most likely need to do their job.
For instance, project management is all about understanding the project's goals and determining the best ways to achieve them. This involves both "problem solving" and "creativity."
Project managers often lead project teams, and the key attribute of "leadership" is essential to bringing together the right team members and bringing the project to a successful conclusion.
Whether you are a project manager, software developer, accountant or have any one of hundreds of other professional jobs, putting the right tools in your toolbox is the first step.
Personality Maps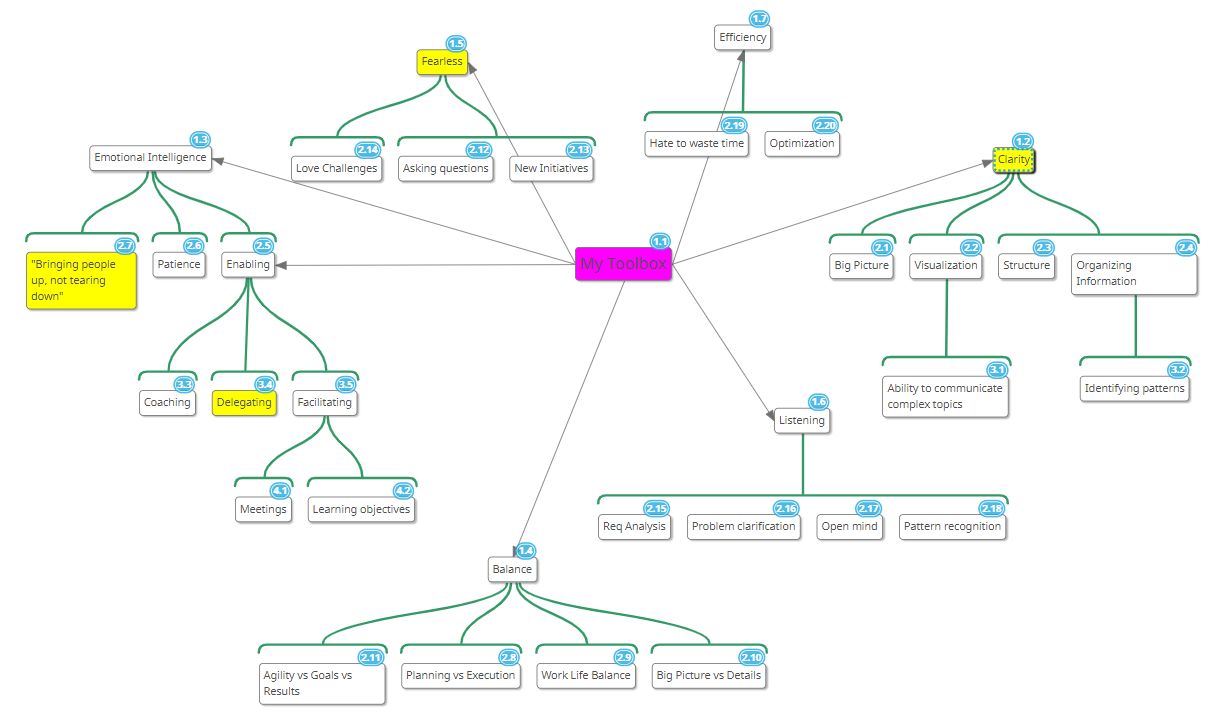 (To enlarge this image on your desktop computer: hold down the "control key" and tap the "+" key on the keyboard)
The next step in your journey is to create a personality map.
There are many types of personality maps (something like Myers Briggs or DISC come to mind) and their focus is to identify certain personality traits that an individual possesses and how those traits might help them make the right fit to land their next job.
Let's take a look at a personality map created for our project manager and see how some of the key words we already identified for that job might be organized to help complete the toolbox.
Enabling - Coaching, Delegating, Facilitating
Emotional Intelligence - Patience, Building Up/Not Tearing Down
Clarity - Big picture, Visualization, Structure
Fearless - Challenges, Asking Questions, New Initiatives
Balance - Agility, Planning, Big Picture, Details
Organization - People, Processes, Information
Listening - Req. Analysis, Patience
Using a personality map and your key attributes is a way to organize your toolbox into specific categories that help to further define yourself.
Remember, your toolbox is all about validating who you are and what you do!
Use your toolbox develop some Because Statements that help you think about who you are and what you do.
"I am great at Project Management because I am a problem solver that gets results." "I am great at Process Improvement because I am creative and efficient."
The outcome of these exercises should be the establishment of yourself as the "GO TO PERSON" for whatever the prospective employer may need. They should help you to demonstrate your fitness for the job.
The Fit
Your Fitness for the job is established in the following 3-part exercise:
Analyze the Job Description – What are the needs of the prospective employer? These needs or pain points may likely appear in the job description illustrating problems with customer service, logistics, employee retention, productivity, and many other issues challenging them. The job description will suggest where you may be of help to the company.

Analyze What is in Your Toolbox – Know what tools are in there that you can produce to help the prospective employer meet and solve their needs.

The Fit – Confidently communicating your value and crafting your message to the employer will clearly portray how you will meet (or even exceed) their needs and fit into the job.
Resume
The most natural place for you to initially communicate your value is your resume.
This article is not about resume writing. There are many sources to help you write a great and compelling resume, with lots of tips to get you noticed.
We are focused on the fit of your resume to the specific needs of the company as stated in the job description.
Matching these two is a great way to demonstrate your value. Here is an example of how our project manager might craft their resume to fit the needs of the company.
Job Description Analysis – Ensure all projects are delivered on time, on scope and on budget. This could mean that the company may have experienced or is currently experiencing delays and cost overruns on its projects. They need a PM that they can rely on to get projects done on time, within scope, and within budget.
Your Toolbox Analysis – You can look in your toolbox and pull out the right tools for the job. You have the clarity to see the big picture and focus on what needs to be done, and you are fearless in taking on challenges and meeting deadlines.
Work Experience as Shown on Resume – "Set and met 95% of goal deadlines for timing and completion of the company's main ABC project in 2021. Through careful use of resources, brought the project in on time and under budget, and as a result was promoted to senior project manager for the XYZ Division."
This is only one example of how to take your traits and attributes from your toolbox and match them to the employer's job description for the best fit possible.
Your resume should stand out because your work experiences will show the employer how you will help them meet their needs and business obligations.
Job Interview
When you are contacted for an interview, don't forget your toolbox! All the key attributes in there will serve you as you speak to the recruiter or hiring manager.
When the interviewer says "tell me about yourself" you might find that your toolbox has the right words to describe YOU.
Rather than the usual litany of where you worked or went to school, you would use the traits and key attributes from your toolbox to describe the kind of person you are - what makes you strong, capable and the right person for the job.
You may be asked to talk about a time that you took on a difficult project and how you handled it. When well prepared, you will have a STAR story (Situation, Task, Action, Result) ready to fully describe the work experience on the ABC project noted in your resume.
At this point you would be able to give more information on costs of the project, number of people on your team, how you managed the program and the outcome to the company of your efforts.
If you ran into problems, you could tell how you overcame them.
Many of the traits and attributes in your toolbox would come into play.
Summary
Never underestimate yourself, your strengths, and the knowledge that you have accumulated during your working life.
Whether you are just starting out or have a lifetime of work behind you, it is the sum of the key attributes in your toolbox, supported by your personality traits that make you unique and will stand you in good stead no matter where you go on your job-seeking journey.